Because pickleball is such an up-and-coming sport, there aren't many rules for women's pickleball attire. Players have endless options to showcase their style, including wearing a pickleball dress. 
If you've never worn an athletic dress while playing sports, I can attest that it's one of the best pickleball clothes for ladies. And if you're looking to expand your pickleball attire or are starting your athletic collection, a pickleball dress comes with tons of benefits on and off the court (more on this later). 
What Is a Pickleball Dress?
A pickleball dress is a piece of athletic clothing designed to provide comfort, ease of movement, and style on the court. Most pickleball dresses are constructed with thin or thick straps, or with sleeves that fall just below the shoulder. Pickleball dresses also vary in length, but many land around mid-thigh. 
We'll get into the difference between athletic dresses, but first, let's discuss their benefits. 
What Are the Benefits of Wearing a Pickleball Dress?
Ladies, when considering what to wear for pickleball, a dress is always a sound option because of the following benefits. 
It's Comfortable on The Court
A pickleball dress is one piece of clothing that you can easily slip on over your head. It covers your body from chest to thigh, so there is no "sometimes uncomfortable" waistband that you'd get from wearing a pair of shorts or a skirt.
A main concern with players wearing a two-piece garment is that the waistband can be too constricting, or it rides up so you're constantly pulling your bottoms down. Another pain point is sometimes athletic shirts can scrunch up, unintentionally exposing your midriff. 
You won't get any of these issues with a pickleball dress.
It's Free-Flowing for Easy Movement
Although a pickleball court is only 44 feet long and 20 feet wide, the sport still requires a lot of movement. These include quick lateral sprints and lunging. Having pickleball attire that allows you to move however you need to be important, especially when you're playing at a high level. 
More Cost-Effective than a Two-Piece Set
Sometimes, purchasing one piece of clothing is cheaper than buying two—that is, a top and bottoms. There are many inexpensive pickleball dresses available that are comfortable and stylish. We'll give you a few options later, so stay tuned.
Stylish on And Off the Court
Pickleball dresses add a feminine touch to your athletic wardrobe. In the early 2000s, professional tennis players like Caroline Wozniacki and Venus Williams showcased feminine, fashion-forward dresses that were both stylish and practical. Now, you can find a variety of dresses in different colors, designs, lengths, and fit.
Many people adopt tennis clothing for pickleball attire. And like with tennis, you can wear pickleball dresses while running errands or during a get-together for brunch. Pair it with a hat and put on your favorite sneakers and socks for an athleisure look. 
What's the Difference Between a Pickleball Dress, a Skirt, and A Skort?
While searching for a pickleball dress, be sure you're looking for the right article of clothing. There are some who think pickleball skirts and skorts are the same as a pickleball dress, but that's not true. 
A pickleball skirt

is a piece of clothing that covers your waist to mid-to-lower thigh. To complete the look, you'd need to purchase an athletic top. 
A pickleball skort combines the features of a skirt and shorts, hence the name.
A pickleball dress

is a one-piece that covers your upper and lower body.
For this article, we'll only be giving you pickleball dress options, meaning one-piece articles of clothing. 
Best Pickleball Dresses for Women
Now that we've discussed what a pickleball dress is and factors to consider when purchasing one, take a look at why these options are on our top eight best pickleball dresses for women list. 
For you fashionistas out there, this dress was made for you. This expertly constructed pickleball uniform doubles as two dresses. Yes, you read that right—it's reversible. You can either flaunt the dress' delicious, bold colors with a pop of pattern for an eye-catching look or turn it into a classic all-black dress.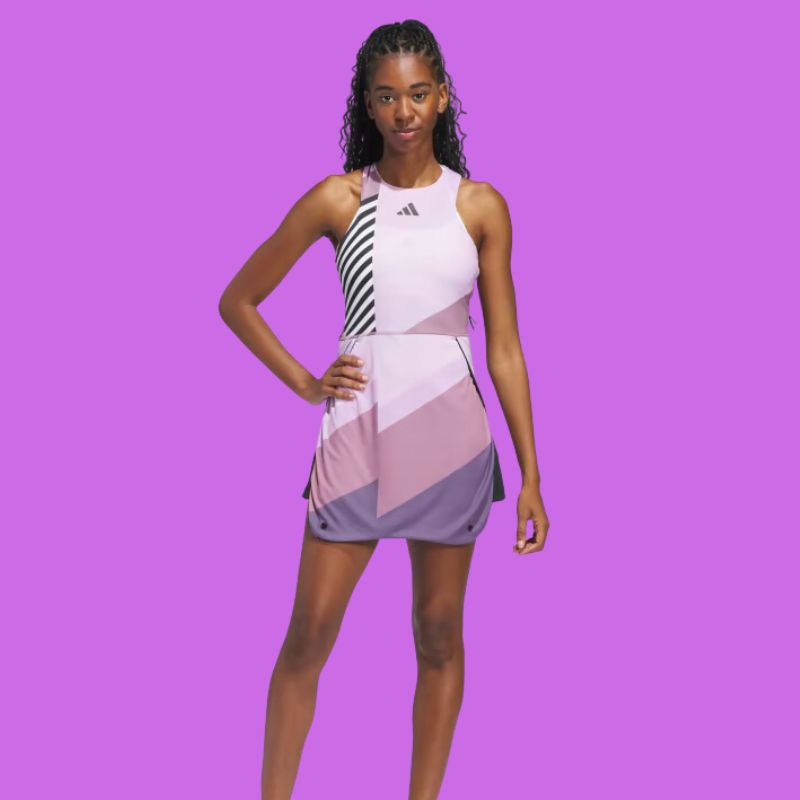 And if that's not enough, this dress is made with AEROREADY fabric. This is a blend of cotton and double-knit polyester that manages moisture, keeping you cool and dry during sunny days. 
Pros and Cons: Transformative AEROREADY Pro by Adidas
| Pros | Cons |
| --- | --- |
| Made with 100 percent recycled materials for a "do-good, feel-good" product. | Considered a slim fit that may be restrictive based on personal preference. |
| Available in a wide array of sizes, ranging from 2XS-2XL.  | Quite expensive compared to other athletic dresses.  |
| A mix of beautiful colors and patterns for a unique look that'll make heads turn.  | |
2. Ewedoos: Best Pickleball Dress on Amazon
Are you a fan of pickleball clothing on Amazon? This pickleball dress is the #1 best-selling athletic dress for women on the site, and for good reason. Some of the reviews are 
"Shocked at how much I love this dress." – K. Wallace

"Can I live in this?" – Shelly

"Need one in every color" – E. Bowling
Along with the average 4.5-star reviews, this dress features a blend of soft, Moisture-wicking fabric and a 4-way stretch for you to move effortlessly on the court.  

Ewedoos is a brand that focuses on function and fashion in the athletic space. They've been innovating since 2016 to deliver features that women want in their pickleball women's attire. 
Pros and Cons: Ewedoos
| Pros | Cons |
| --- | --- |
| Includes built-in shorts and a removable bra for the ultimate customization. | Not a well-known brand.  |
| Snug on top, flare at the bottom makes for an appealing design.  | Women with bigger busts may struggle to find a firm fit on top.  |
| Adjustable straps with an X design on the back so your arms can move freely when executing your pickleball hitting technique.   | Short lengths may not be a great fit for women who like longer-length bottoms. |
| Very affordable. | |
The Halara brand has taken the world by storm thanks to a little social media platform called TikTok. Everyone who's anyone is wearing Halara, with raving reviews on how this athletic wear hugs all the right curves on top of the inexpensive price tag.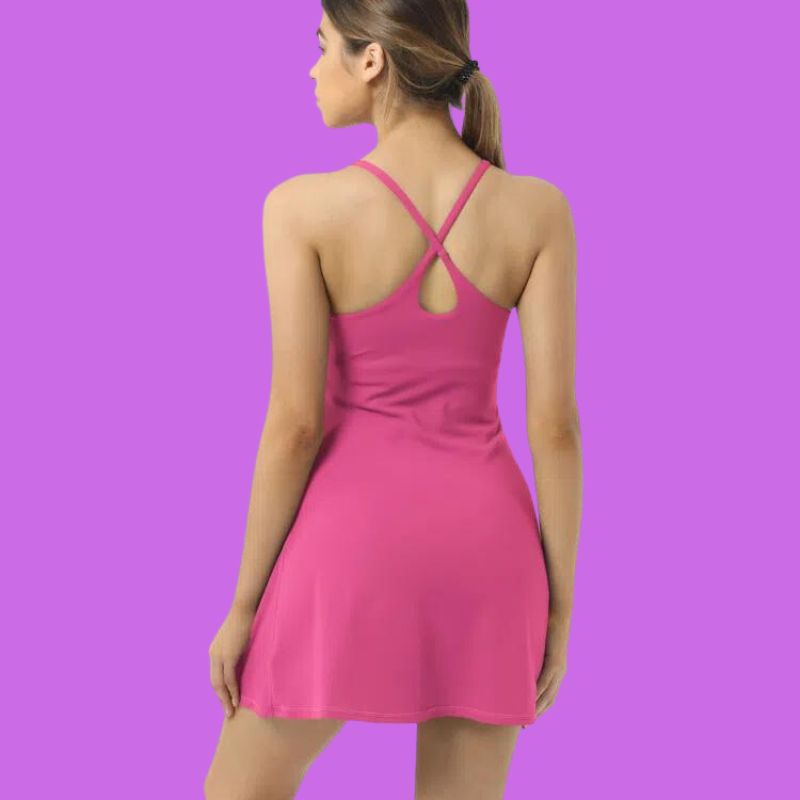 But the best part about this dress that makes it an ideal pickleball uniform for women is the expertly designed open-back waistband. It allows you to pull down your shorts whenever you need to use the restroom without having to remove the entire garment! 
And if you're not already sold from that feature alone, there are more benefits to browse through. Check them out in the pros (and cons) section. 
Pros and Cons: Everyday Cloudful™ Wannabe-Easy Peezy
| Pros | Cons |
| --- | --- |
| Cloudful™ technology makes the fabric feel "buttery soft" for ultra-comfort during workouts. | Spaghetti straps that aren't ideal for high-impact workouts, like intense pickleball games.  |
| 4-way stretch that stretches up to 200 percent of its original elasticity.  | Shorts are made of cotton, which can easily show sweat marks.  |
| Body sculpting fit that flatters multiple sizes and body types. | |
| Very affordable. | |
There are a lot of pickleball dress options in the market. But there's a lack of longer-length athletic dresses that are both stylish and classic. Well, this dress hits the trifecta!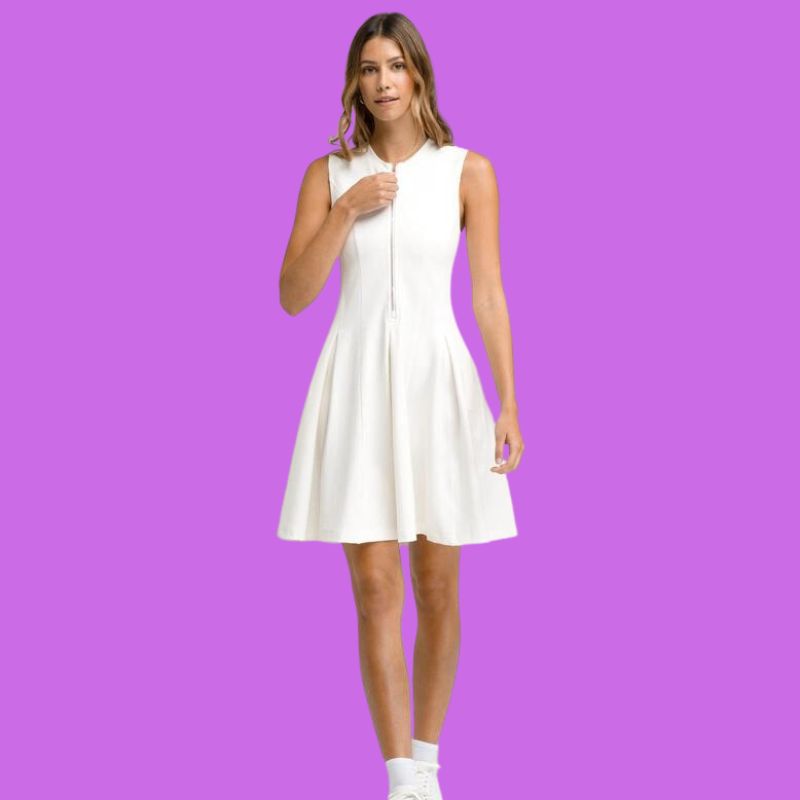 History: The Wilson brand was founded in 1913 by Thomas E. Wilson. It initially focused on producing tennis racquets but expanded into other sports and clothing.
Technological developments:

During Wilson's long history, they've developed new materials and technology to improve the performance of their products. In fact, Wilson has endorsed many tennis legends.  
Longer length bottoms:

The Sleeveless Club dress wears just above your knee, giving you more body coverage. This is a great option for looking timeless and classic, despite a looser fit. 
Pros and Cons: Sleeveless Club by Wilson
| Pros | Cons |
| --- | --- |
| Zip-up feature for full coverage or simple coverage during hotter days. | Does not have a liner and the undershorts are not included in the dress.   |
| Made with a breathable, stretchy fabric fit for recreational pickleball play. | Minimal color options. |
| Features two built-in pockets. | |
5. Outdoor Voices Court Dress: Best Pickleball Dress by a Brand Known for Its Global Impact
Want to purchase a pickleball uniform and make a difference at the same time? Outdoor Voices is on a mission to protect playgrounds by using sustainable materials that reduce their environmental impact. 
Outdoor Voices uses sustainable alternatives like RecPoly (polyester that's recycled). It even has bluesign-approved fabric, which you can find in this court dress. This means their textiles and products meet the strictest standards throughout their supply chain. 
Pros and Cons: The Court Dress
| Pros | Cons |
| --- | --- |
| Made with a textured compression that's designed to shape and sculpt your body for a form-fitting dress. | Lack of color options.  |
| Made with sweat-wicking material so you can stay dry and cool through your pickleball play. | Revealing construction that may not fit everyone's personal preference.  |
| Includes built-in shorts with pockets to store necessities when you're out and about or on the court.  | |
| Sustainable brand who's on a mission to make an impact.  | |
As I mentioned earlier, pickleball is new, and so is its fashion. Players are still choosing and trying out different pickleball uniforms to wear that are functional yet fashion-forward.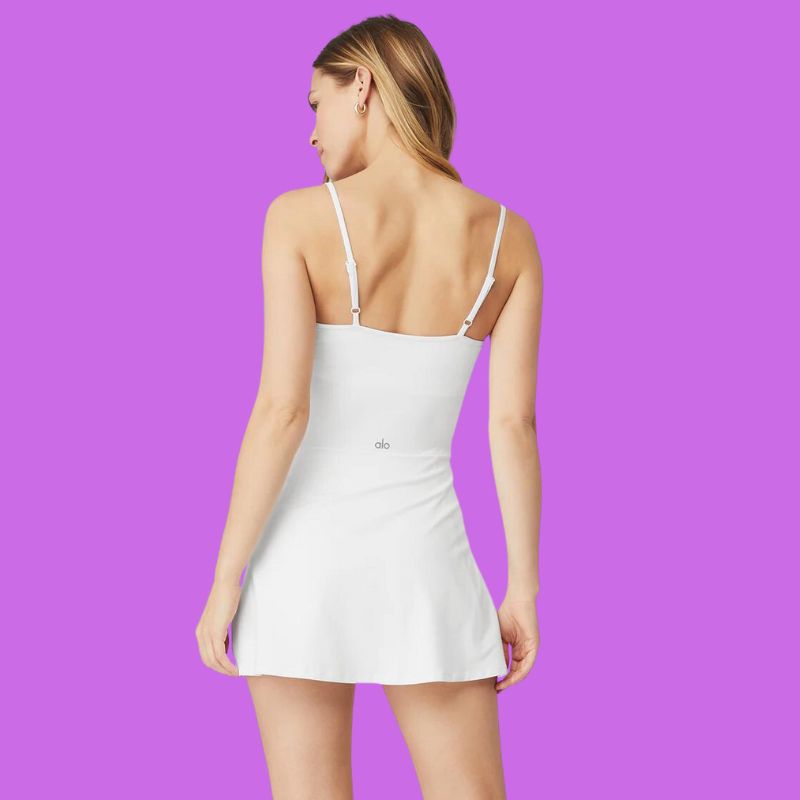 One professional pickleball player who has made a name for herself through her outfits is Paris Todd. Former tennis player turned pickleball pro, Paris created her own line of clothing because she didn't love the choices in the market. She's now sponsored by Alo, a well-known yoga brand that's expanding to other sports. 
Todd mentioned in post-win interviews that she's been a long-time fan of Alo and it's been a dream of hers to become one of their sponsored athletes.  
Pros and Cons: Alosoft Courtside Dress
| Pros | Cons |
| --- | --- |
| Features a sweetheart neckline for a feminine touch and design element that is not traditionally seen in athletic wear.  | High price tag. |
| Includes a built-in bra and shorts, with functional pockets.  | Minimal color options to choose from. |
| Adjustable straps for customizable fit.  | |
7. NikeCourt Dri-FIT Slam: Best Pickleball Dress for the Hottest Look
Nike is notorious for designing performance-driven, fashionable pieces. From the Tennis GOAT Serena Williams' iconic jumpsuits and dresses to the simplistic outfits of Roger Federer, Nike's style can suit all kinds of players.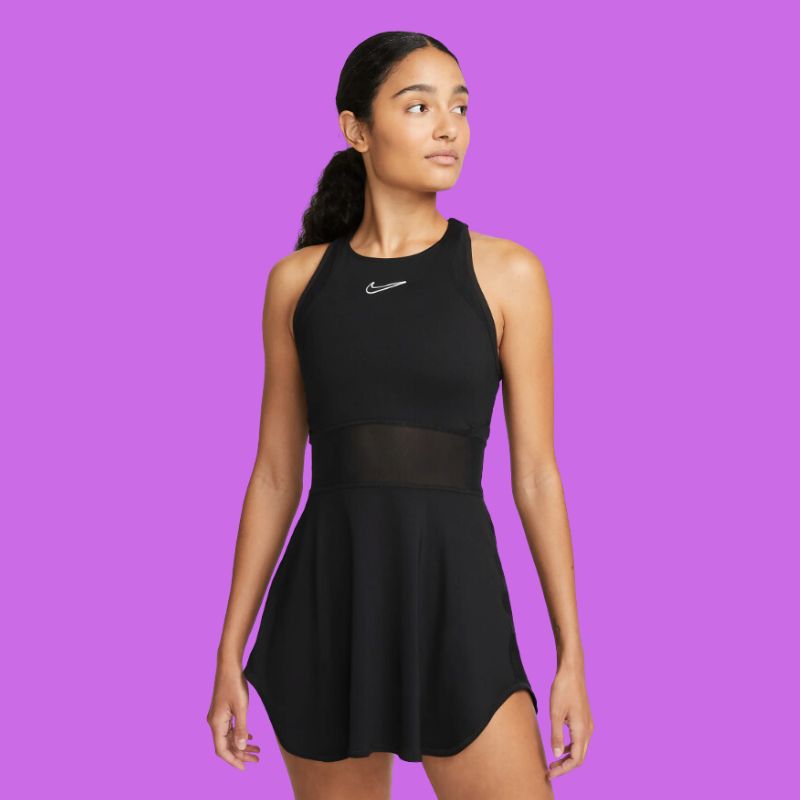 Nike is also known as a brand that's at the forefront of performance technology. The NikeCourt Slam dress features its Dri-FIT technology, a polyester fabric designed to help keep you dry during sunny days, so you can play freely. 
Although this is a tennis dress, many amateur and professional players wear tennis clothes on the pickleball court because the movements are similar and both are played on a hard court. 
Pros and Cons: NikeCourt Dri-FIT Slam
| Pros | Cons |
| --- | --- |
| Trusted brand with decades of results in high-performing clothing for women. | Tight fit that may restrict your movement on the court.  |
| Newest, trendiest dress that professional tennis players wore at the 2023 US Open. | The dress has a thin material and is very short.  |
| Razorback design with a cut-out in the back for a breathable dress that gives you unlimited movement. | No built-in matching shorts.  |
| Multiple sizes to choose from on the website. | Lack of color options. |
8. Staud Backspin Dress: Best High-End Pickleball Dress with Sleeves
Most of the pickleball dresses on this list have tank tops and spaghetti straps. Well, the Staud backspin dress is a high-end pickleball uniform that's great for players wanting a little more coverage around the shoulders.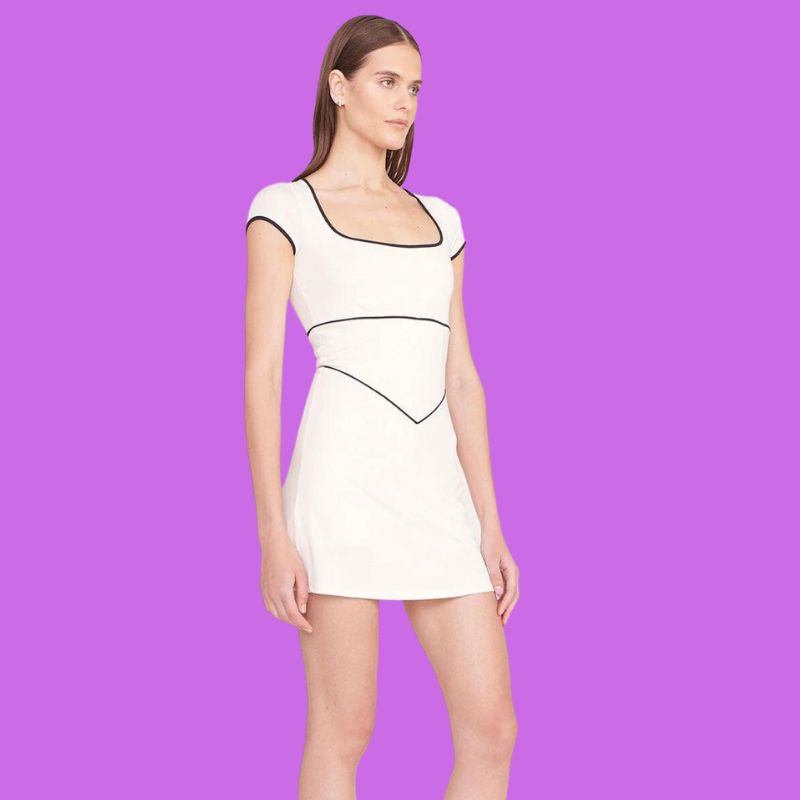 What is the Staud brand? It's a California-based lifestyle brand that entered the athletic space with high-end clothing designed for those who gravitate toward both modern and classic styles. 
If you really want to stand out on the pickleball court, and money isn't a factor for you, go with this dress. You won't find many pickleball players wearing this. You'll stand out, even in a classically designed dress. 
Pros and Cons: Backspin Dress by Staud
| Pros | Cons |
| --- | --- |
| Features moisture-wicking technology to keep your body cool and dry.  | Very expensive.  |
| Attention to detail in design for a unique, striking look on the court. | No returns or exchanges.  |
| Free shipping on orders over $100. | |
Tips for Wearing a Pickleball Dress
Just like any piece of clothing, there is a time and a place for wearing a pickleball dress. While one of the benefits of wearing a pickleball dress is the versatility to sport it on and off the court, be mindful of the following factors so you don't get in a pickle with your outfit. 
Does Your Dress Come with Built-In Shorts?
If the answer is no, wear separate spandex shorts (or leggings if it's cold outside) so you don't accidentally show off your panties during pickleball play. 
Protect Your Skin from UV Rays
If your pickleball dress is revealing and you're playing out in the sun, be sure to apply sunscreen so your skin doesn't get burnt or damaged. 
Bring an Extra Pair of Clothes if There's a Chance of Wind
While you can play pickleball with a dress in windy conditions, having the skirt flying all around you can be distracting. Just in case, pack a pair of athletic shorts and a tank. 
Buyers Guide: How to Find Pickleball Clothes for Ladies
If you're wondering what to wear for pickleball, take a look at the factors to consider when looking for the best pickleball dress.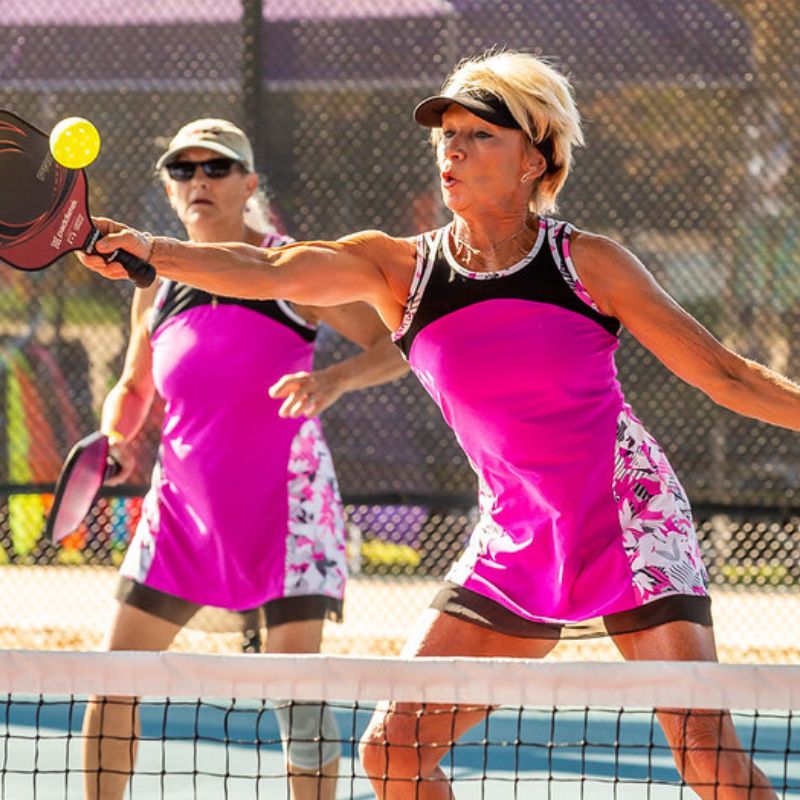 Comfortable Fit for Flexible Movement
A pickleball dress that fits well can easily be a go-to everyday staple in your wardrobe. The key is finding a dress that's not too tight and not too loose. 
One way to find the perfect fit is to try on a dress before you buy it. But if you're shopping online, here are a few tips to help narrow down your size. 
Choose the Size of Your Pickleball Dress that Matches Your Top Size
For example, if you wear a size 8 to 10 top, purchase a dress that ranges from size 8 to 10. The same applies to XS to XL. 
Look for A Size Guide on The Website
Some online shopping retail stores or pickleball clothes on Amazon have a size guide. Compare your measurements to their available sizes and check reviews. Some customers talk about how the clothes fit them and will recommend sizing up or sizing down sometimes.
Order Different Sizes to Try, and Keep the One that Fits
If you're looking for a pickleball dress that accepts free returns within a period of time, order a few options and return the ones that don't fit. As they say—work smart, not hard!
Style & Design to Sport Your Personality 
This is a fun one. Find a dress that makes you gasp with excitement. Maybe you like a simple, flowy pickleball dress. Or are you naturally loud with a bubbly personality? Choose a pickleball uniform that has an artistic design with bold colors. 
There are a ton of options out there, ranging from classic to stark colors to pickleball clothes that hug your body or land loose throughout. Either way, be sure you invest in an outfit that's not only practical but also makes you feel confident and comfortable. 
Includes Built-In Shorts
Wearing shorts under your dress is a must because dresses tend to flow upwards during movement. Now, not all dresses come with shorts, but there are some that do, and it can be a game-changer. The benefit of purchasing a pickleball dress with built-in shorts is that you don't need to buy spandex shorts separately, saving you money. 
You do have to take off your entire outfit to use the restroom. If you ask me, it's a small price to pay. But if you don't like it, there's always the Halara Everyday Cloudful™ Wannabe-Easy Peezy dress with built-in shorts that you can simply pull down. 
Find a Dress with Moisture-Wicking, Breathable Fabric
Did you know that blue hard courts absorb heat, making the outside temperature feel up to 15 degrees hotter? Since outdoor pickleball is played on a hard court surface, you need to find a pickleball dress that is made of moisture-wicking fabric. 
The moisture-wicking fabric has capillary spaces in the material, allowing moisture to move through it. So when your body produces sweat, the material pulls the sweat to the outer surface and spreads so the sweat can evaporate. 
Many people like pickleball attire made with moisture-wicking fabric for numerous reasons. 
Moisture-wicking material in a pickleball dress absorbs sweat and keeps your body cool and dry. When your body is cool during your summer sweat sesh, you can put all of your attention to your pickleball technique and strategy rather than feeling hot and miserable. 
The capillaries in the fabric give air room to move through it and onto the body, making the pickleball outfit extremely comfortable under hot and cool conditions. 
Easy Washing Instructions
When caring for your moisture-wicking pickleball dress, all you need to do is wash it with a little water and detergent in the washing machine. It's even preferable that you don't use a fabric softener.
Final Thoughts
Remember, you own your personal style. There are many pickleball dresses for women to choose from, ranging in price, quality, and design. The best advice I can give? Choose something you feel comfortable and confident in so you can always play your best.