When creating a checklist for your pickleball needs, pickleball shorts for women should be at the top of that list. The low, athletic stance at the net, constant lunging for balls on the court, and the quick stop-start movement you experience during pickleball matches require top-notch attire. 
Plus, it feels good to look good on the court. Don't sleep on your pickleball outfits (figuratively speaking)—you create a healthy amount of confidence when you dress professionally on the court. 
So how do you search for pickleball shorts for ladies? What factors should you consider, and what are the best women's pickleball shorts? We'll cover all of that and more here. 
Buyers Guide for Women's Pickleball Shorts
Finding the right kind of women's pickleball shorts is overwhelming, especially if you don't know where to start. Just like searching for women's pickleball skirts, there are factors to consider when you're ready to purchase women's athletic shorts for pickleball. 
Before you "add to cart" on your next pickleball shorts for ladies, remember the following factors.
1. Comfortable Women's Pickleball Shorts for Easy Movement
Comfort may seem like a luxury when looking for the best women's pickleball shorts, but I'd venture to say it's a necessary feature. 
Pickleball is a sport that requires flexibility and freedom to get low and move quickly. Keep in mind that although the pickleball court is smaller, pickleball balls don't bounce as high as tennis balls, so staying in a low, athletic stance is key to striking the ball well. 
But what features should you look for that makes the pickleball short for women comfortable? Here are some signs to look for to make sure you're getting the most comfortable women's pickleball shorts. 
Look for Breathable, Moisture-Wicking Fabric. 
Let's be real: it's downright uncomfortable to play any type of sport when your clothes are dripping with sweat. Moisture-wicking fabric like polyester prevents this from happening by keeping your sweat on the surface of the fabric so it evaporates more easily in the air. 
Choose Women's Pickleball Shorts with Elastic Waistbands and Adjustable Drawstrings. 
Women's pickleball shorts with elastic waistbands and adjustable drawstrings give you the freedom to customize the fit around your waist based on what feels most comfortable for YOU. All body types are different, so finding an option that forms seamlessly around your waist, with the extra option to expand or tighten, is key. 
Pick Stretchy, Durable Material like Polyester in Which You Can Move Seamlessly In. 
Polyester is an easy choice when considering comfortable women's pickleball shorts because it's lightweight, form-fitting, and it has moisture-wicking properties. 
Spandex is another comfortable material for women's pickleball clothing because it's also breathable and keeps you cool and dry from the heat. 
2. Durable and Quality Pickleball Shorts for Ladies that Last
Getting women's pickleball clothing is an investment, and a solid one too if you're playing more than three days a week. I recommend going for value over the initial price. If you pay a little more for high-quality pickleball shorts that last longer, you're actually getting more bang for your buck. 
Search for Shorts that have Reinforced Stitching.
Because of the intense movement on the pickleball court, and the frequency of play, women's pickleball clothing can wear out quicker than you think. Reinforced stitching is when three to five stitches are sewn in the same place. This keeps the integrity of the shorts over time. 
Look for Shorts that can Withstand Multiple Uses and Washes.
Synthetic or man-made materials, such as polyester or polyester blend, can be washed multiple times. They last longer than other fabrics such as cotton, and are more resistant to high heat and friction. This last point is especially important because of how much movement you'll be doing on the pickleball court. 
3. Stylish Pickleball Shorts for Women with Trending Design
Everyone's got their own personal style, but it's nice to know what others think are fashionable pickleball shorts for women. From colors and patterns to length and functionality, here's what to look for with style in mind. 
Find Trendy Pickleball Shorts for Women with Multiple Color and Pattern Options. 
More established, well-known brands like Nike and Adidas come out with seasonal colors and patterns based on emerging trends. I like to shop in the tennis section online because the brand's style and design choices are based on their sponsored tennis players. This tells me that the shorts are created for high impact and high performance. 
Go for a Length Option that Feels More Comfortable for You. 
There are trendy pickleball shorts for women that are mid- to upper-thigh in length that come in high- or mid-rise options. All can get the job done, so your decision will depend on your personal preference. 
I like wearing shorts that are a bit on the shorter side because I don't like having the extra fabric during the hotter months. But others prefer shorts that hang just above the knee to avoid chafing. Try them on in a store and walk around to get the feel for what you like best. 
Get Pickleball Shorts for Women with Pockets and/or Spandex Underneath. 
A nice feature with shorts underneath your skirts is you get to store balls in them. Storing balls in your shorts is especially helpful when you're trying to control the flow of the game.
For example, a good pickleball strategy is to speed the game up to keep your momentum going after you've won a string of rallies. In order to play faster between points, having an extra ball handy is key. 
TL;DR: Best Women's Pickleball Shorts 
Now that you know what factors to consider when looking for the best women's pickleball shorts, here's a round-up of the pickleball shorts for women that are fit for the court. 
Top Women's Pickleball Shorts to Keep You Cool and Dry
1. Nike Court Dri-Fit Advantage
When you're playing pickleball in the heat and need to stay cool and dry, go with NikeCourt Dri-FIT Advantage. These shorts check all of the boxes for performance, comfort, and style. Most of all, when it comes to moisture-wicking material, Nike takes the cake with its Dri-FIT technology. 
Nike's Dri-FIT technology is a moisture-wicking construction where the clothing extracts sweat from the body and disperses it throughout the fabric, making the sweat evaporate in the air quicker. This means you can get to sweatin', and feel comfortable doing it.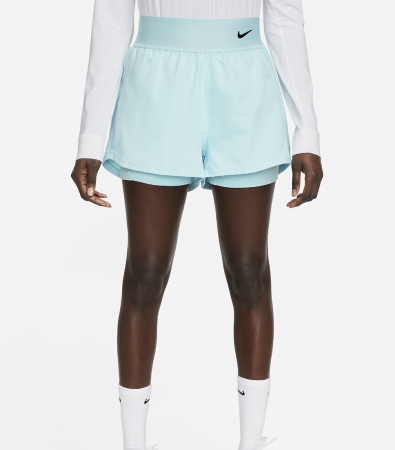 Pros:
Cons:

Secure, flexible waistband that hugs around the frame

Includes shorts underneath for maximum support

Moisture-wicking, stretchy material to move freely around the court

Limited colors available

No patterns for personal flare
2. Adidas Tennis Match Shorts
Adidas also sports some pretty cool technology, literally. Their HEAT.RDY collection features Body Mapping Technology that ventilates in the necessary areas to keep you cool and dry through long hours of play. If you're looking for women's athletic shorts for pickleball that work as hard as you, go with these!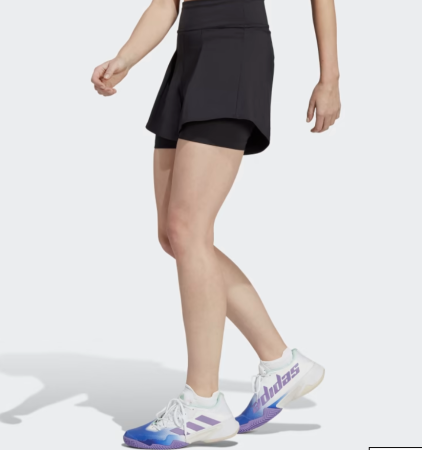 Pros:
Cons:

Created with recycled materials for sustainable clothing

Includes short tights underneath for extra support

Made with a wide waistband for comfort and longer wear

Crafted with stretchy fabric for high-intensity movement

Only available in black, no patterns 

Price is on the steeper side
Stylish Pickleball Shorts so You Can Look Good on Court
How do we determine what's stylish and trendy in the game of pickleball? We look to the professionals. One of the biggest fashionistas on the professional pickleball tour right now is Paris Todd. And she just so happens to be sponsored by Alo Yoga.
3. Alo Yoga 
This luxury yoga company combines fashion with pops of color and form-framing silhouettes. If you want to stand out on the pickleball court in style, grab a pair of Alo Yoga's Gold Medal Shorts.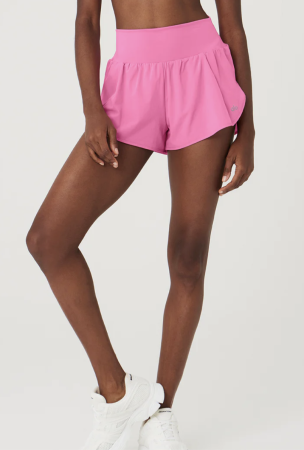 Pros:
Cons:

Fashion-forward brand with athletic shorts that come in paradise pink

Features a hidden stash pocket to hold phone or keys during cross-training

High-waisted for slimming look

Expensive due to being a luxury brand

Short briefs underneath are not long enough to hold pickleball balls
Longer Length Women's Pickleball Shorts for Comfort
The one downside to shorter shorts is chafing. And while there are products that mitigate chafing, I still like to switch up my shorts with longer-length, tight ones. Plus, the "biker" short look is trending right now. So it's a win-win! 
4. Athleta's Ultimate Stash 7 Short
The Ultimate Stash 7 Short from Athleta is a great option for high-impact workouts, including pickleball. Athleta is a brand that goes beyond athletics. They're known for empowering women and celebrating them through their designs, innovation, and making products for all shapes and sizes. 
So if you want to make an impact while looking good and feeling comfortable on the pickleball courts, I recommend this short.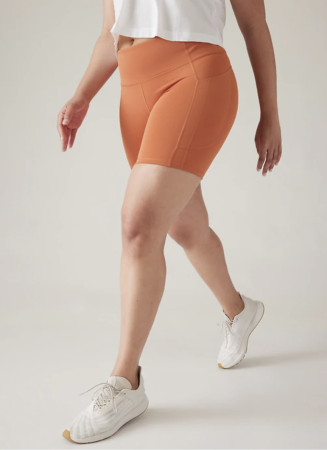 Pros:
Cons:

7" length shorts for comfort and flexibility

Made with recycled material including polyester and lycra

High-rise waistband for a form-fitting look

Multiple colors and patterns

Expensive due to being a luxury brand

Not an exclusive pickleball- or tennis-type short
Affordable Pickleball Shorts for Women that Won't Break the Bank
Not yet sold on getting shorts, but don't want to completely rule it out? Go for an affordable option that you can feel confident in and still get the benefits of solid athletic clothing. 
5. Drawstring Contrast Flowy Mesh 2-In-1 Shorts by Halara
Halara is a top-rated athletic brand on Amazon that has a lot of options for women's shorts. The best part is these Drawstring Contrast Flowy Mesh 2-in-1 Shorts are just under $20. Over 800 people have given these shorts 5 stars and many say they're definitely worth the money.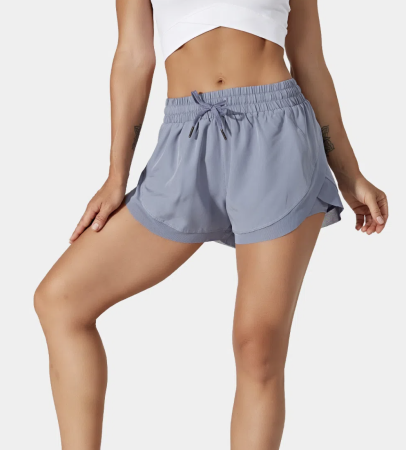 Pros:
Cons:

Under $20 and top-rated

Includes spandex shorts underneath for comfort

Stylish design with an adjustable drawstring for a customizable fit

Multiple color options

Not made exclusively for performance 

May experience wear and tear sooner than high-end brands
Final Thoughts
A pair of women's pickleball shorts are a great addition to your wardrobe. They're lightweight, can withstand the summer heat, are easy to move freely in, and are appealing to a woman's figure. There are also multiple options for all body types, styles, and prices to fit any lifestyle. 
Whether you play a few times a week, every day, or even multiple times a day, the right pair of shorts can withstand high-impact workouts. They're even comfortable and fashionable enough to run errands in. So when you're considering getting a pair, try any of the aforementioned picks above.