Because of the frequent and quick stop-start movements on the hard court pickleball surface, it's important to get proper pickleball shoes for women. The proper pickleball shoes not only last longer, but they are also required by both public and private facilities and tournaments. 
But what are the best pickleball shoes and are there any factors to consider when looking to purchase some? 
Read on to find out. 
Buyer's Guide for Women's Pickleball Shoes
Before purchasing what you think are the perfect pair of women's pickleball shoes, there are things you need to know and consider first. Avoid overlooking these factors to find your best fit. 
Look for "Non-Marking" Court Shoes for Pickleball.
What's the difference between marking and non-marking shoes? Short answer: the material that the outsole is made of. 
Marking shoes are made of durable rubber compounds with patterns designed for maximum traction on surfaces like asphalt and grass. 
Non-marking shoes

are made of softer, non-scuffing rubber or synthetic materials that leave little to no scratch marks on sensitive surfaces, like indoor and outdoor pickleball hard courts.
It's crucial you purchase non-marking shoes to ensure that you're not damaging the hard pickleball court surface with scuff marks. You'd typically find non-marking shoes if they're marketed as a specific pickleball shoe. 
Use Caution When Purchasing Tennis Shoes for Pickleball.
One of the most frequently asked questions I hear is "Can I wear tennis shoes on the pickleball court?" The answer depends because not all tennis shoes are designed the same. For example, there are tennis shoes made specifically for grass and clay court surfaces. These types of shoes are not good for playing on a hard-court pickleball surface. 
But tennis hard courts do have the same surface as pickleball hard courts, so you can wear hard-court tennis shoes while playing pickleball. They won't damage the floor. Just make sure your tennis shoes have good traction, support, and comfort. 
Go with Tried and True Brands. 
If you come from the tennis world (or any athletic world for that matter), you know that Nike and Adidas dominate the athletic shoe space. And for good reason. 
1. Nike and Adidas are known for their quality and durability. 
Their tennis shoes are often built with durable materials, advanced technology, and features that can withstand the demands of playing on a hard court surface. 
2. Both brands invest in research and development. 
As pickleball evolves, so does its corresponding equipment and sportswear. Nike and Adidas are constantly tweaking their features for optimal on-court performance. Some features include sole patterns, cushioning for comfort, and stability technology. 
3. They're notorious for sponsoring professional athletes.
Some of the top professional hardcourt specialists wear Nike and Adidas, further proving the quality and high performance of their shoes. One noteworthy player sponsored by Nike is Serena Williams, who is arguably the greatest women's tennis player of all time. Adidas, they are currently sponsoring the top five tennis player, Elena Rybakina. 
4. Great warranties that put your mind at ease. 
Pickleball shoes are expensive, but they are an investment. You want to be sure you're getting your hard-earned money's worth. If your newly bought shoes from Nike turn out to be flawed, you get a full refund if you return them within 60 days of your purchase. You may also be eligible for a full refund within two years of the manufacture date if there is a workmanship flaw. 
Meanwhile, Adidas footwear has a 6-month warranty policy where you can get a full refund if the shoe has a defect. 
When in Doubt, Opt for an Official Women's Pickleball Shoe
Now that pickleball is becoming increasingly popular, big players in the shoe space are getting in on the action, which means more options for specific pickleball sneakers. 
Just a few short years ago, there were limited pickleball shoes for women (and men). A lot of players had to purchase tennis shoes instead. Then professionals signed major sponsorship deals with brands like Skechers and Fila and began sporting their shoes on the hard court. More on these brands later. 
Needless to say: if it's good enough for the pros, it's good enough for you. 
Best Pickleball Shoes for Women
Based on the buyer's guide for women's pickleball shoes and multiple reviews, I've rounded up the top picks for the best pickleball shoes for women.
As previously mentioned, Nike's warranty is top-notch. Although you're paying over $100 for the NikeCourt Air Zoom Vapor Pro 2, you can confidently purchase them without worrying about any potential defects.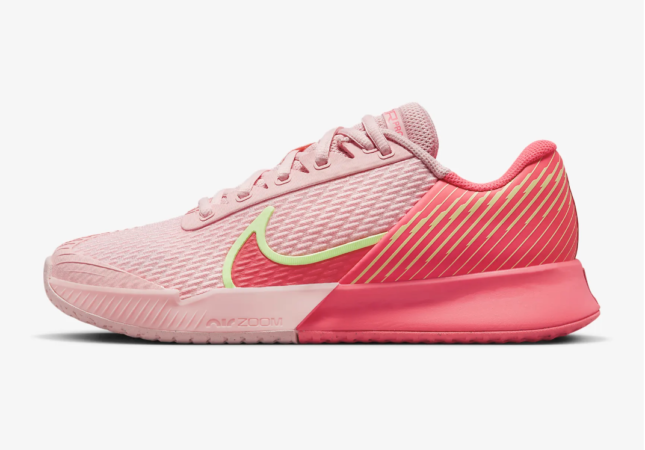 This shoe is lightweight, nimble, and designed for players who want to move around the court quickly and with ease. Compared to the first iteration of the Vapor Pro line, this shoe has come a long way. It's lighter, more comfortable thanks to the cushioning, and constructed with a sleeker design for quick movement. 
Nike Vapor Pro 2 Features:
The unique factor of this shoe is its all-around effectiveness for on-court performance. Its slender edges give you a competitive edge with speed and agility, while the mesh material offers breathability for hot days on the court. The Nike Vapor Pro 2 is also a non-marking shoe, making it perfect for pickleball.
There are a number of innovative qualities that make this shoe stand out amongst others on the market. Here's a closer look at its features. 
Nike Zoom Air cushioning:

found in the forefoot and provides good shock absorption to reduce fatigue during long matches. 

Flywire technology:

used on the upper portion of the shoe to provide a secure fit for lateral movement on the court. 

Durable outsole:

made with a combination of rubber and synthetic materials for a non-marking shoe on hard courts. 

Breathable material: the

upper shoe is made of mesh to keep feet cool and dry during hot days.   
Nike Vapor Pro 2 Pros and Cons:
You won't have any problems with the Nike Vapor Pro 2. Some have expressed discontentment over how the heel area feels, but all feet are different so it's best to try it on in person before buying. And because you're banking on the brand's value add, the shoes are quite expensive. You will also need to replace them every so often, depending on how frequently you play. 
| Pros | Cons |
| --- | --- |
| Available in multiple color schemes for trendy looks on the court.  | Expensive shoes for a 6-month lifespan, depending on play frequency.  |
| Good cushioning that provides excellent comfort on hard courts.  | You need to break in the shoes first for them to become comfortable.  |
| Low-profile design that helps improve ground feel.  | |
Adidas hard court shoes have a slightly bad reputation for being bulky and heavy—not ideal for pickleball, which needs agility and speed. However, the Ubersonic 4 is a premium pickleball sneaker that is touted for being lightweight, responsive, and comfortable. All of these are necessary for full-court singles play, and doubles play at the kitchen line.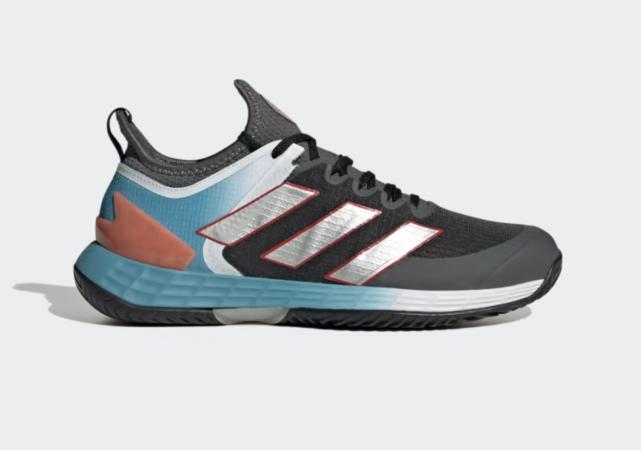 The fourth generation of its kind, Adidas continues to improve using the latest technology to keep up with the demanding use of hard court surfaces. Their claim to fame: is the Lightstrike midsole that gives the ideal balance of speed and comfort. 
Adidas Ubersonic 4 Features
What sets this women's pickleball shoe apart from the others on the market? One of the cool (literally) things about this shoe is the HEAT.RDY technology that's used to keep your feet cool and dry. 
The Adidas Adizero Ubersonic 4 also has a unique outsole pattern made of a soft rubber compound designed to provide good traction without leaving marks. Here are some other reasons to consider purchasing this pickleball sneaker.
Lightstrike cushioning:

a lightweight and responsive cushioning material that provides comfort and performance. It is also very durable, making it a good choice for players who demand a lot from their shoes.

Primeknit upper:

a one-piece, seamless construction that fits like a sock.

External heel counter:

provides added stability and support, helping to prevent your foot from rolling over and causing ankle injuries.

Adituff toe reinforcement:

protects the toe from wear and tear.

Adiwear outsole:

made of a durable rubber compound that provides excellent traction on hard courts.
Adidas Ubersonic 4 Pros and Cons
While this shoe is attractive for most pickleball players, there are some cons to be aware of. For one, you'll need to pay a premium price for a premium shoe. Expect north of $100, which adds up when having to replace shoes every 6 months—possibly more depending on how hard and often you play.
| Pros | Cons |
| --- | --- |
| Available in 14 color schemes to match your attire. | Runs narrow, so not ideal for wide feet. |
| Designed for speed, a key quality when playing pickleball singles. | Upper material can be fragile—aggressive hardcourt movers beware. |
| Includes a mesh material for breathability during hot days on the hard court. | Laces are thin and can wear down easily. |
Skechers is one of the first major shoe brands to enter the pickleball game. In fact, Skechers sponsors Catherine Parenteau, the number two women's singles player in the world and top five in gender doubles. Her swift, easy movement on the court requires her to wear comfortable shoes that can last for long periods of time.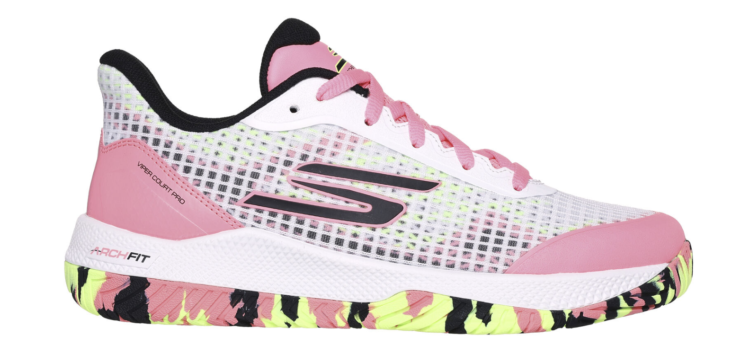 Skechers is also the official footwear of the Professional Pickleball Association, Major League Pickleball, Association of Pickleball Professionals, and USA Pickleball. 
Among Skechers' notable releases is the Viper Pro, a pair of non-marking pickleball shoes that won't scratch or tear your pickleball court surface.
Skechers Viper Pro Features
This women's pickleball shoe is designed for comfort, support, and performance. A lot of players have been raving about its many features. 
Ultra Flight midsole:

made of lightweight and responsive but durable foam for a soft, bouncy feel and support.

Arch Fit footbed:

provides arch support and helps to reduce fatigue for long days on the pickleball court. Remove the footbed for a customizable fit. 

Goodyear Performance Outsole:

provides traction on various surfaces, including hard courts, grass, and clay.

Relaxed fit:

plenty of room for your feet to move in, which is important for pickleball players who need to make quick lateral movements.
Skechers Viper Pro Pros and Cons
The Viper Pro is a great shoe, but it doesn't come with a wide range of colors to choose from. Here are its pros and cons.
| Pros | Cons |
| --- | --- |
| Made with innovative technology that even professionals use. | May not be supportive for pickleball players with high arches.  |
| The relaxed fit is great for both narrow and wide feet. | Players have complained that the shoes are too wide, and their feet tend to move around inside a lot. |
| Removable Arch Fit for custom feel and support. | |
Now if you're the type of person who likes to have the same gear as the top player users, then this is the women's pickleball shoe for you. The number one women's singles, doubles, AND mixed doubles player in the world, Anna Leigh Waters, wears this FILA pickleball shoe. So what makes it so special?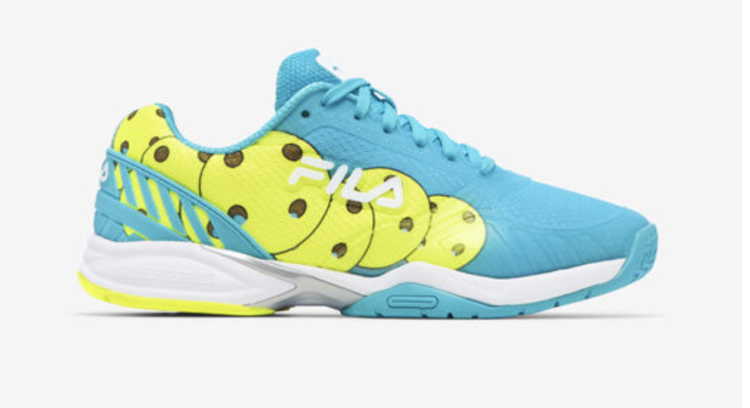 FILA is a well-respected brand with a long history of making high-quality sportswear. Their women's pickleball shoes are no exception, being comfortable, stylish, and performance-driven.
Lucy Kovolova, a veteran professional pickleball player, also wears FILA. She's known for her fashion in the pickleball world, and the shoe compliments her striking outfits on the court.
Women's Volley Zone Features
The Women's Volley Zone is the first performance pickleball shoe by FILA. One of my favorite things about it is the bluefish color painted with yellow pickleball balls. It's so on-the-nose. I love it!
Cushioned midsole:

made of EVA foam, which is a lightweight and shock-absorbing material. This helps to protect your joints from impact while providing much-needed comfort. 

Durable outsole:

made of rubber, offering good traction on a hard court surface. The outsole also has a herringbone pattern, which helps to improve traction on wet surfaces.

OrthoLite insole:

made of a moisture-wicking material that keeps your feet dry while providing additional cushioning and support.

Scalloped outsole:

The scalloped outsole is designed to help improve traction on the court. The scallops create small grooves that grip the surface of the court, providing more stability and preventing slipping.
Women's Volley Zone Pros and Cons
Because this shoe is in high demand, the fun designs that make it a strong selling point often are out of stock in popular sizes. This can be frustrating when needing a new pair of shoes a few times a year. 
| Pros | Cons |
| --- | --- |
| Includes extra midsole cushioning for maximum comfort in the area where your foot arches. | Not as breathable as other shoes on the market.  |
| Offers durable traction for easy, on-court movement from the herringbone rubber outsole. | People with high arches may find the soles to be uncomfortable. |
| The GOAT, Anna Leigh Waters, wears this shoe while capturing triple gold medals. | |
K-Swiss may not be the flashiest brand, but they've been a leader in premium shoes since 1966. Their lowkey marketing doesn't make them less than the "sexier" brands like Nike or Adidas. In fact, some budget-minded players who still want high-quality features would prefer this pickleball shoe for women.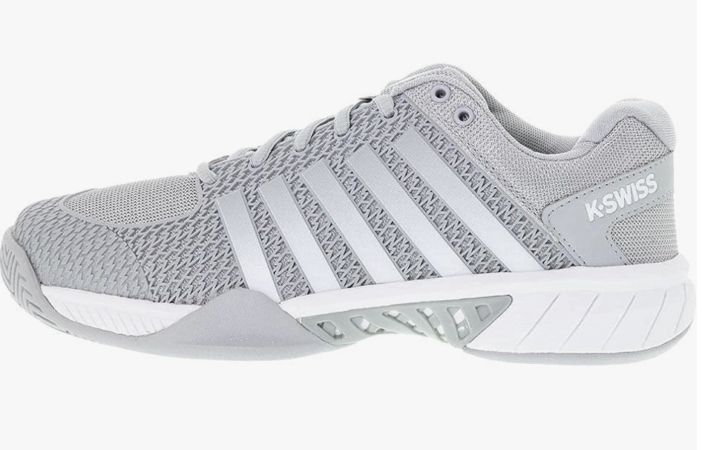 The Women's Express Light has many features other top brands have, like durability, solid traction, non-marking properties, and being lightweight. 
But the biggest selling point of this women's pickleball shoe is that it is designed for wide feet. You have the option to choose between a "regular" size shoe or the same size in a "wide" option. You don't see a lot of those around!
K-Swiss Express Light Features
Pickleball players are constantly jumping and moving on the court. With this in mind, K-Swiss uses a lightweight, cushioned midsole that provides shock absorption and comfort while keeping the shoe feeling responsive and agile. 
Antimicrobial treatment:

helps prevent the growth of bacteria and fungi. This keeps your feet healthy and odor-free.

OrthoLite insole:

made with a moisture-wicking and supportive material that helps to provide comfort and cushioning.

Durable construction:

made with materials that are designed to withstand the rigors of pickleball play.
K-Swiss Express Light Pros and Cons
Honestly, there weren't too many negative reviews on this pickleball shoe for women. In my opinion, there are more appealing shoes, but you can find a flattering pink color or some fun black and peach shoes in this line. I'm sure you have your own preferences, so it's really a matter of personal style. 
| Pros | Cons |
| --- | --- |
| Specifically designed for new and veteran pickleball players. | Has a very low arch that to some might feel uncomfortable. |
| Includes a high-density outsole for maximum durability from heel to toe.  | Sides of the shoe are a bit high and can rub against the ankles without proper socks. |
| Features an ortholite sock liner that minimizes perspiration and keeps feet cool. | |
Looking for the most durable pickleball shoe? This women's pickleball shoe offers just that and more.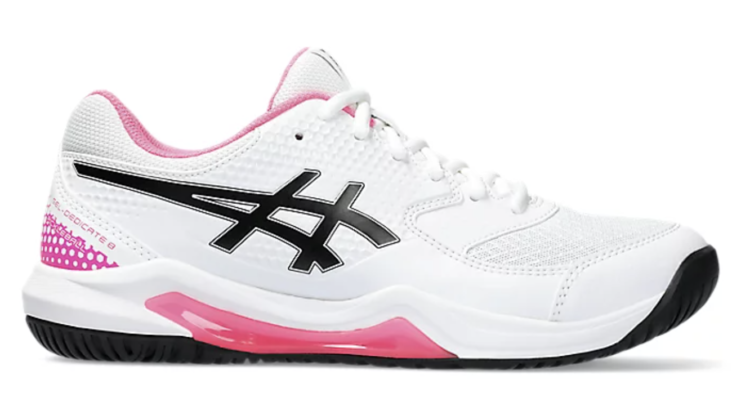 One of the standout qualities of ASICS Gel-Dedicate 8 Pickleball shoe is the TRUSSTIC technology. This technology is located in the middle part of the shoe where the structure enables better balance and keeps the shoe from twisting. It basically supports stable movement on the court. 
This is ideal for pickleball players because you're forced to change directions quickly. Also, because the pickleball technique requires precision, it's important that you stay balanced through your shot. Having the right pickleball shoes that support stability is key. 
ASICS Gel-Dedicate 8 Features
This shoe excels with its GEL technology feature. In the 1980's, ASICS developed and improved this technology to keep up with the demands of a hard court surface. The GEL cushioning inside the shoe provides comfort and shock absorption to alleviate joint pain during vigorous movement. 
Durable construction:

the synthetic leather overlay in the toe area makes this shoe extra durable and long-lasting because many players are on the balls of their feet or drag their toes when they take off after a ball. 

Breathable mesh:

the upper part of the shoe can keep feet cool during hot days on the court. Having a balance of mesh and a sturdy outer layer makes this shoe the best of both worlds. 

Durable Rubber:

the bottom of the shoe is constructed for good traction on a gritty, outdoor surface, while still being non-marking. 

Solution dye sock liner:

reduces water usage by 33 percent for a more sustainable-friendly shoe. 
ASICS Gel-Dedicate 8 Pros and Cons
The shoe's durability is without question thanks to the dual GEL and TRUSSTIC technology integrated with the shoe's construction. However, the tradeoff to durability is that many find this shoe stiff. Take a quick look at some pros and cons. 
| Pros | Cons |
| --- | --- |
| Integrated technology features for comfort, stability, and support. | Bulky appearance that may not appeal to the average user. |
| Made for wide-fit feet compared to others on the market.  | Upper portion of the shoe can feel flimsy.  |
| Trusted brand that's been in the market for decades.  | |
Don't let the brand name fool you. These tennis shoes are specially designed for high performance on the hard court surface. 
Why is this in the running for one of the best pickleball shoes for women? The co-creator, Roger Federer, is a former professional tennis player. He's known for his effortless movement and having minimal injuries during his long career as a professional tennis athlete. 
Roger Pro Features
When a former player gets involved in making a product, it's bound to have features that athletes want. Because they've been there before and know what qualities make for a high-performing shoe. And this product is no exception. 
Speedboard carbon fiber plate:

this is a thin, lightweight plate embedded in the midsole of the shoe. It acts like a spring, helping to propel the player forward when they push off the ground.

Heel counter with the medial post:

a stiff piece of plastic that surrounds the heel of the shoe. It helps to prevent the heel from collapsing and provides additional support for the Achilles tendon to prevent injuries.

Engineered mesh upper:

made of lightweight and breathable mesh material to keep the feet cool and dry, even during long matches. The upper is also very flexible, which allows the player to move freely.

Sole with varied grip patterns: the sole of the Roger Pro has a variety of grip patterns, which helps to provide good traction on the hard court. 
Roger Pro Pros and Cons
The minimalist design of the Roger Pro pays homage to the late professional while still appealing to the modern fashionista. I personally love the look because you can pair this shoe with flashy clothing and not look like you're overdoing it. Balance is key, even in your pickleball attire. Here are some other pros and cons.
| Pros | Cons |
| --- | --- |
| Free 30-day return period | Newer to the market with little reviews.  |
| Made from 100 percent recycled polyester upper | Very limited colors to choose from |
| Size and fit are regular and true to size. | High price tag |
We've been talking about the best women's pickleball shoes for hard courts, which is the most common surface you'll play on. However, if you live in colder areas and have to play indoors, you may be dealing with a different surface, specifically hardwood.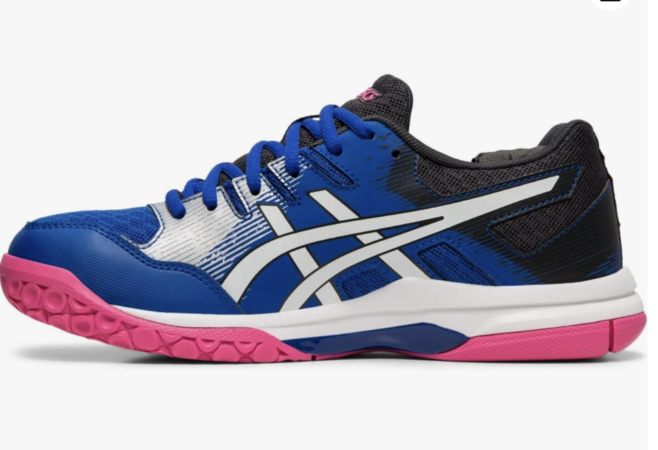 Hardwood surface is softer and sleeker than a hard court, so durable traction and non-marking properties are a must-have in your pickleball shoes. 
Well, the ASICS Women's Gel Rocket 9 has these features and more. 
ASICS Gel Rocket 9 Features
The ASICS Women's Gel Rocket 9 are volleyball shoes that can totally be worn while playing pickleball. Not only is its collar and tongue padded with foam, but the shoe has exceptional rebound properties. Other notable features include:
Breathable mesh material:

the upper portion of the women's pickleball shoe has a lightweight mesh material that keeps the feet cool and dry to help prevent blisters.

Gel cushioning system:

the cushion is found in the heel and forefoot to help absorb shock and reduce impact during aggressive movements on the hardwood surface. 

Durable traction:

the outsole is made with rubber to help prevent slipping and sliding on the sleek surface. This keeps the player balanced on the court while also preventing injuries. 
ASICS Gel Rocket 9 Pros and Cons
For people with wide feet, you may want to consider an alternate option because this shoe runs a bit narrow in the toe box. Also, this shoe is technically designed for volleyball, that's why it's great for hardwood floors. 
| Pros | Cons |
| --- | --- |
| Includes synthetic overlays on the upper portion of the shoe for support and comfort. | The shoe runs narrow and there is very little adjustment for people with wide feet. |
| Features a foam-padded collar and tongue for comfort on the top of the foot.  | Upper portion of the shoe can feel flimsy.  |
| Eye-catching color schemes for a unique look. | Marking shoes, so they can leave marks on the pickleball court if you're not careful. |
Conclusion
The best pickleball shoes for women depend on the individual. Factor in what you're willing to pay for a shoe. But remember that quality is important, especially because your shoes can help prevent wrong-footing that results in injuries. 
If you can find a store that has the pickleball shoes for women that you're looking to buy, it would be best to try it on in person first before deciding. 
Happy pickling, folks!