Pickleball is a fast-paced, entertaining sport that is gaining popularity. It is a modified version of ping-pong that's played on a smaller court using a paddle and a plastic ball with holes.
As it is for any sport, choosing the right gear is crucial since it can have a big impact on individual gameplay. If you're ready to jump into the game, whether you're a novice or an experienced player, you will want to use the right ball suitable for your needs.
So let's dive in and explore the different types of pickleball and what to look for when choosing one.
Types of Pickleball Balls
There are two main types of pickleball balls—the indoor pickleball ball, and the outdoor pickleball ball. Both types have their own strengths and weaknesses. 
Indoor balls feature a softer surface material, making them great for indoor courts, as they can be hit without causing much damage or noise in an indoor setting. These balls are also ideal for inexperienced players who need more time to adjust to the speed of the game. 
Outdoor balls are intended for use on outdoor courts with stronger surfaces like concrete or asphalt. They are more durable and can resist more challenging environmental conditions while allowing excellent performance both indoors and outdoors.
The Differences Between Indoor Pickleball Balls and Outdoor Pickleball Balls
Here are 5 major differences between indoor and outdoor pickleball balls to help you correctly identify which is which:
| | Indoor Pickleball Balls | Outdoor Pickleball Balls |
| --- | --- | --- |
| Number of Holes | 26 holes | 40 holes |
| Hole Diameter | 0.43 inches in diameter | 0.282 inches in diameter |
| Weight | Comparatively lighter | Heavier in order to prevent wind interference |
| Hardness | Comparatively softer | Made harder for more bounce on outdoor surfaces or environments |
| Durability | Made of a lighter plastic material that drags more | Made of tougher, thicker and heavier material to maintain speed and last longer against the elements |

Things to Consider Before Buying an Indoor Pickleball Ball
Now that you know the main differences between indoor and outdoor pickleball balls, it's time to look at the factors you need to consider before you buy an indoor pickleball ball.
Look for a ball that has a solid reputation for lasting through numerous games. It should be made of a robust substance. Rubber, plastic, and composite materials all have excellent endurance and may be used again and again without degrading too quickly. 
Pickleball balls come in several sizes—large, medium, or junior. So, make sure you get the right size when you buy one. A larger pickleball ball is easier to spot and hit, while a smaller ball is lighter and easier to guide through the air with more precision. 
The ball's bounce is crucial because it affects the way the ball plays. You don't want to have to wait too long after a ball has been hit or rebounded off the court surface. That said, indoor courts don't suffer from wind interference and other outdoor elements, so you won't be needing a ball with superior bounce. 
Indoor pickleball balls are lighter in weight because of their larger holes.  The USAPA (United States Professional Pickleball Association) has established rules for size, weight, bounce, and construction material, so you won't be able to use just any ball in official tournaments. Therefore, find one that has been approved by the USAPA. 
The Cost of Pickleball Balls
Pickleball balls range in price according to the quality and materials used in making them. Professional-grade balls are composed of high-quality materials like solid-core plastic or hard rubber, and typically cost between a few dollars to over $20. 
Better quality balls have a longer lifespan and offer a better overall playing experience. They also tend to cost more.
The Top Indoor Pickleball Balls on The Market
Finally, check out our top five recommendations for the best indoor pickleball balls on the market. 
Franklin Sports X-26 Performance Indoor Pickleballs
The Franklin Sports X-26 indoor pickleball has 26 precisely beveled holes to produce a superior flight pattern and balance. The USAPA has given these indoor balls its stamp of approval for its ability to last hours on the court, with consistent bounce, durability, and playability.
Features:
Made of high-quality EVA materials

Superior flight pattern and balance
Pros:
Made to last hours on the court

Consistent flight and balance for better gameplay

USAPA approved
Cons:
Some color options appear duller in real life

Some players find it slightly heavier, affecting gameplay
Jugs Pickleball (Indoor) by Jugs Sports
The Jugs pickleball is a popular ball that can be used indoors or outdoors. It is softer and more rubberized than other balls, making it a great choice for beginner players.

Jugs are made of soft plastic and have big holes and a fun bounce. The Jugs ball weighs 0.85 ounces and is available in white and bright lime-green.
Features:
Bright colors for better visibility

Soft, lightweight construction for quieter play
Pros:
Good practice ball for beginners 

Excellent bounce for better gameplay

Highly durability for practices
Cons:
Not approved by USAPA for official tournament play

A slightly softer material makes it slightly slower
Selkirk SLK Hybrid Indoor & Outdoor Pickleball Ball
Selkirk's unique hybrid pickleball balls are the perfect starter ball for players who want to practice pickleball both indoors and outdoors. USAPA-approved and suitable for players of all levels, these hybrid balls are designed to handle both indoor and outdoor environments with ease.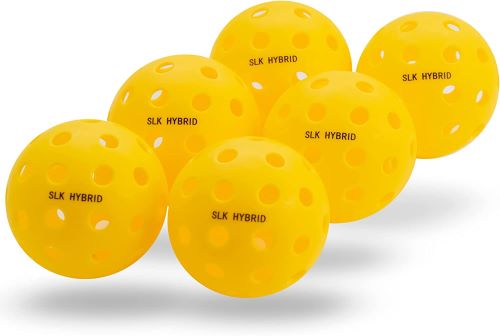 Features:
40 precision-drilled holes for consistent flight and bounce

Versatile for indoor and outdoor play
Pros:
Durability is suited for extended rallies

USAPA approved for tournament play

Versatility makes it great for players of all skill levels
Cons:
May not perform well in extreme heat or cold conditions

May not perform well for aggressive playstyles
GAMMA Photon Indoor Pickleball
Each ball by GAMMA Photon is made to be consistent and durable with 26 precision-molded holes allowing the ball to fly at the right pace for indoor play.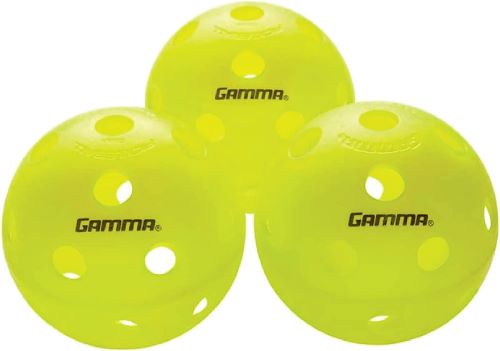 The GAMMA Photon indoor pickleball ball also has a strong, 2-piece construction design that lasts longer than most comparable pickleball. Each ball is a highly visible optic green color, making it easy to see against dark and light backdrops, as well as in busy environments.
Features:
Balanced 2-piece construction ensures consistent play

A perfect combination of hard and soft materials for excellent bounce
Pros:
Best indoor pickleball for low light

USAPA approved for sanctioned tournaments
Cons:
Might be too light for some players

Some players say it's comparatively slower than Franklin's
Onix Fuse Indoor Pickleball by Onix Sports
The Onix Fuse Indoor Pickleball is specifically designed to fly straighter, bounce more accurately and last longer. The seamless ball is heat-welded together to ensure maximum longevity and is perfect for players who want to transition between indoor and outdoor play.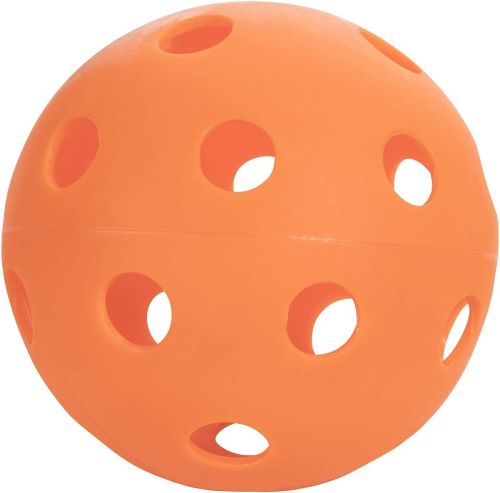 Features:
Strategically aligned holes drilled with precision for a good balance

The seam welded exceptionally for more durability
Pros:
Consistent performance in indoor and outdoor play

Larger hole patterns lead to less bounce on indoor courts

Made to wear well for long rallies and practices
Cons:
Not available in many colors

Slightly more expensive than other options

USAPA approved for outdoor play only
Storing Pickleball Balls
It is essential to keep pickleball out of the sun and out of extremely hot or cold temperatures when storing them. The synthetic material of the balls may degrade over time from direct exposure to UV rays.
Pickleballs should also be kept in a cool, dry area, away from humid places. Store them in a mesh bag to prevent dust accumulation that might affect their performance.
Frequently Asked Questions
What Is the Top Pickleball Ball for Beginners?
The best pickleball ball for beginners is typically made of a softer material like plastic or soft foam. These give the balls a lower bounce, which makes them easier to control. They provide the ideal playing conditions to learn the game without it being overly complicated. 
That said, find a ball that is good for both indoor and outdoor use since you won't want to be limited to just one set while you're just starting out. The Selkirk hybrid ball is a good option.
What Is the Finest Pickleball Ball for Advanced Players?
Advanced players prefer a ball made of harder material with a higher bounce. Balls that are made of composite or graphite offer them more power and precision, so they're able to do more complex shots and angled services. 
How Do I Know Which Type of Pickleball Ball Will Last the Longest?
The material and production of the pickleball ball determine how long it will last. Plastic balls are often less durable than composite or graphite balls. But any item can be given a longer lifespan if it is stored and maintained properly.
How Often Should I Replace My Pickleball Ball?
The quality of the ball and how frequently you play to determine how often you need to replace your pickleball. Cheap plastic balls need to be replaced more frequently than higher-grade composite or graphite balls. The moment you spot a crack in your ball, or when you notice the seam starting to tear, it's time to replace it.
Conclusion
A good pickleball is an investment that will enhance your game experience and reduce complications, regardless of your skill level. It's good to take time to research and choose the best pickleball ball suited for you so that you can thoroughly enjoy your time playing. 
Although you can get away with using an outdoor pickleball ball indoors, playing with the right type of ball will give you a better playing experience.