Pickleball is a well-known sport in European and Western countries that is slowly emerging in other parts of the world as well. People love playing this game because it's easy to learn and don't require bulky gear to play. 
However, if you are a real enthusiast, you might want to look into some useful and aesthetic pickleball gadgets to up your game. Get the most out of your next pickleball game, because in this article, I will be sharing the top 10 must-have pickleball gadgets that are perfect for pickleball enthusiasts. 
Read on to learn more. 
Top 10 Pickleball Gadgets You Must Have
Pickleball gadgets help promote safer, more convenient, and more exciting gameplay. Here are the top pickleball accessories you should consider purchasing before your next game. 
Pickleball Bag
A pickleball bag is a must-have pickleball accessory. It not only makes carrying your gear anywhere more convenient, but it also keeps them safe from weathering and damage. 
Pickleball bags come in different shapes, sizes, and colors. You can choose whatever style you want based on your preference, just make sure the bag is lightweight and made from heavy-duty material. One example would be the GAMMA Pro Pickleball Bag Pack. 
This bag's features include a large primary compartment big enough for three paddles, two other large compartments on the side that can store your pickleball and water bottles or snacks, and adjustable padded straps to give you the utmost comfort when carrying the bag. It even has a bottom compartment for shoes, socks, and other dirty items. 
Pickleball Gloves
Playing pickleball is fun. However, long periods of gripping the paddle and pinching the ball for a spin can irritate the skin. This is why pickleball gloves are useful. 
Pickleball gloves primarily provide comfort to your hands even during long periods of gameplay. They also keep your hands warm if you are playing in cool weather, and give you a better paddle grip to help you strike the ball with more accuracy and force. 
There are many types of sports gloves on the market, but try to get gloves that are specifically designed for pickleball so you can use them in tournaments. 
The Franklin Performance Glove is a great option. With its leather palm and padded index and thumb, you're guaranteed a more comfortable hold on the ball and paddle during service. 
Paddle Grips
A paddle grip works quite similarly to pickleball gloves in that it provides you with a better grip on your paddle. The difference is these aren't worn around your hands, they're applied on your paddle's shaft. Paddle grips also work wonders in helping you create a good spin on your shots or serves.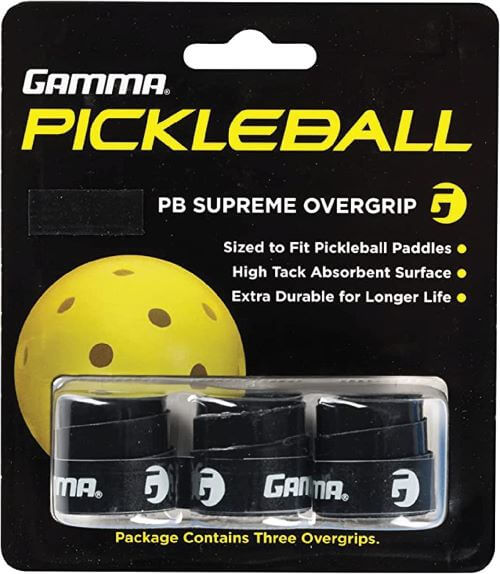 One good paddle grip on the market is the Gamma Supreme Pickleball Overgrip. The main features include sweat-absorbent fabric, extra padding, and wide color variation. 
Practice Target
Mastering different service and counter motions in pickleball takes time. And in doing so, one must prioritize time for practice. A practice target is a piece of equipment you can use to practice your powerful moves on, especially if you are a newbie.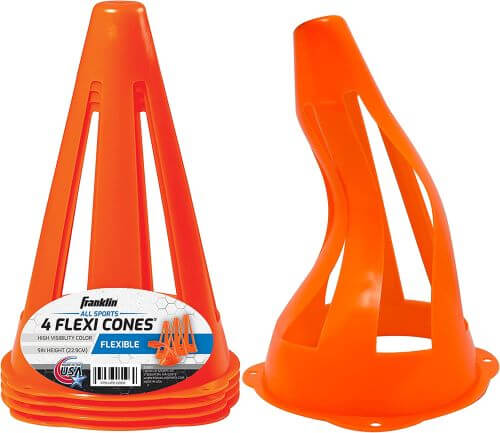 This equipment can either be collapsible or non-collapsible cones that you can put on the parts of the court where you intend to strike the ball to as a form of target practice. 
One of the best-selling practice target equipment is the Flex Practice Cones. These are collapsible and lightweight, which is good for travel. 
Paddle Cover
We all want to keep our favorite things safe from any damage. Without the proper care and attention, pickleball paddles can easily start to peel off or chip away after some time. To extend the life of your pickleball paddle, get a paddle cover.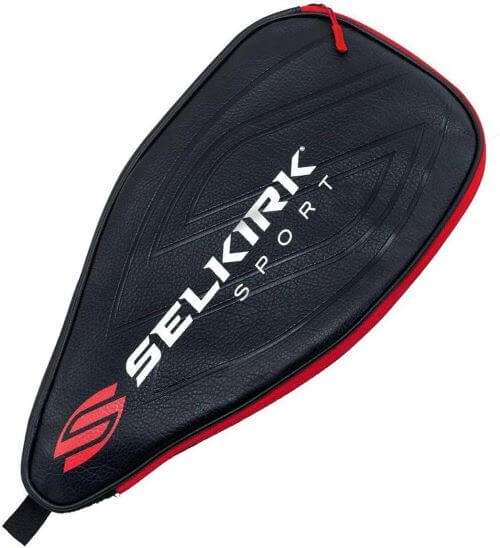 Paddle covers are sheaths that help you carry your pickleball paddle safely. They tend to be lightweight and waterproof, so you won't have to worry about your paddles getting wet while traveling.
Looking for the best paddle cover for your gear? We recommend the Selkirk Premium Paddle cover. It is made of a lightweight fabric and has a zipper that goes around the paddle to avoid it being scratched while stored in the bag. 
Grip Trainer
A grip trainer is a good paddle accessory for those who have trouble finding the right way to grip a paddle.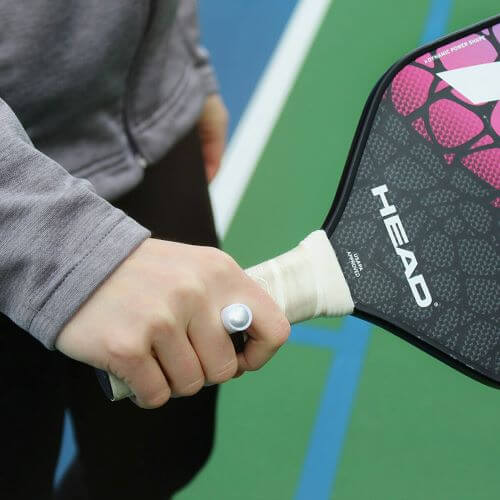 There are basically two types of pickleball grips—the continental grip and the eastern grip. The continental grip is quite similar to the way you hold a hammer, wherein you wrap your hand around the paddle's handle. On the other hand, the eastern grip is more like positioning your hand for a handshake.
Even if you've already mastered these types of grips, you might still find it hard to maintain a firm grip on your paddle due to hand strain or exhaustion. A grip trainer can help you maintain a good hand grip on your paddle throughout your game. 
There are many brands offering good quality grip trainers, but if you want to get the best, you should opt for the Start Rite Grip Trainer. It has adjustable velcro straps and small rods covered in a foam-like material to prevent your skin from getting irritated. 
Ball Machine
Are you in search of a training partner but haven't found one yet? You can try to invest in a ball machine. As implied by the name, this machine automatically releases balls for you to counter during pickleball training.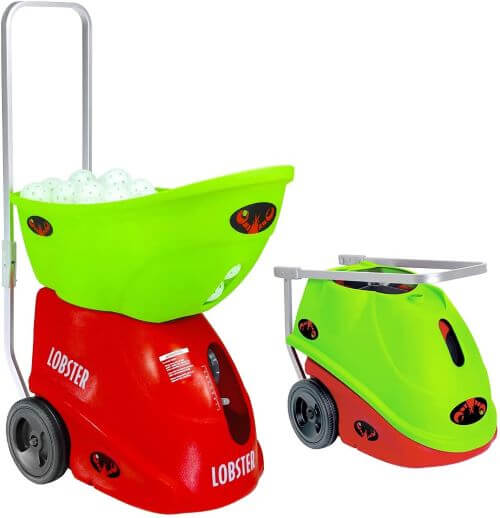 One of the best ball machines to look out for is the Lobster Pickle Ball Machine. Their standard machine can hold up to 135 balls and can throw balls up to 60 miles per hour. Lobster ball machines are made in the USA with a guaranteed two-year warranty upon your purchase. 
Pickleball Socks
Playing pickleball not only involves rigorous movements in your upper extremities, it also requires proper footwork. Good footwork and positioning will give you a better chance of countering attacks and creating powerful service motions. 
But without the appropriate gear, your feet will easily feel strained and exhausted. Pickleball socks are not only aesthetic, but they also keep you comfortable as you play. 
When choosing socks for your next pickleball game, make sure to get those that are really intended for pickleball. The Superfly Pickleball Socks are moisture-absorbent and breathable, making them an ideal accessory for pickleball players. 
Visors 
Are you looking for protection against the harsh sun? Opting for a visor is an effective way to keep your skin safe from UV rays while playing pickleball outdoors.
When it comes to brand and product, we highly recommend going for a washable and adjustable design. Adidas' Superlite 2 Performance Visor is one such product with adjustable straps, lightweight material, and washable fabric. 
Sunglasses
To complete your pickleball safety gear, grab yourself a pair of high-quality sunglasses. Just like visors, sunglasses keep your eyes protected from the hot UV rays of the sun, while also giving you a clearer view of your opponent's court and the pickleball throughout the game. To learn more about the different types of glasses you can wear, feel free to check out this article.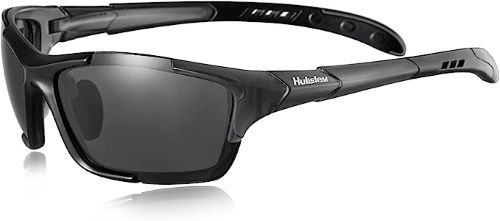 One of the best quality sunglasses for pickleball is the Hulislem S1 Sport Polarized Glasses. What's good about this product is that it's lightweight and specially designed for sports. The frame is made of polycarbonate material and it comes in a wide variety of colors to choose from. 
Final Word
Pickleball is a fun and simple sport that doesn't require a load of equipment and gear to play. But for better gameplay and convenience, we suggest investing in some amazing pickleball gadgets. There are gadgets that keep you and your gear safe, help you train, and even those that can improve your game.