Hey girl, searching for the perfect pickleball bag? Don't worry, we got you covered.
Proper equipment storage is one of the most important factors in caring for your pickleball equipment. We need to make sure that our paddles, jerseys, and pickleball are safe from any external factors that could damage them.
For this reason, we have to take note of the quality of our pickleball bags as well. Here are some of the best pickleball bags for women that you should check out. 
What Ladies Should Look Out For in Pickleball Bags
Before we jump into the list, let's first talk about what to expect from a good pickleball bag. Here are the things that you should take note of:
Size and Space
Being overprepared is better than not being prepared at all. That said, size matters in pickleball bags. You would normally only need to bring to court a paddle or two, and a pickleball to play a game, but every person has different needs. 
If you have a party or gathering to attend after a game, you'll need to bring extra clothes and make-up. Or you might need extra storage space to carry medicine and first-aid supplies for the group, just in case of injuries or accidents. All of these require a good amount of storage space.
On the flip side, size could affect how comfortable your bag is to carry around. Bigger bags tend to be heavier and are more often a pain to carry compared to smaller bags. So, in the end, you either sacrifice size for comfort or vice-versa.
Number of Compartments
To keep your stuff nice and organized, multiple compartments in your bag truly help. Compartments are good for separating your wet, dirty clothes from your fresh, clean ones. Organizing your items in multiple compartments also helps you locate specific things more quickly since they all have their own designated places.
Specifically for pickleball, you'll want a bag that has a pickleball paddle compartment built into it. You can store your paddles inside when not in use, or when traveling and protect it from possible damage. You'll also want a separate compartment for your extra pickleball balls, another to hold your water bottles and a separate, more secure compartment for valuables like your phone and wallet.
Bag Handles and Straps
Bags come in all shapes, styles, and sizes. This is especially true for women's bags. There are shoulder bags, handbags, backpacks, purses, pouches, and much more. 
I'm sure you've developed your own preference over the years, but for pickleball, you might want to consider getting a backpack. A backpack ensures that your hands are free to carry around any additional equipment. The weight of your bag is also distributed more evenly between both shoulders, which protects your back from strain and injury. 
And then there are bags that come with multiple handles. Getting one of these might actually be better since you'll be able to adjust the handle and straps depending on your current mood or circumstance. For example, you will have a hard time putting on your backpack with an arm injury. In this case, having a built-in shoulder strap or duffel bag handles would really come in handy.
Aesthetic Value
It is not only important to slay on the court but to also slay on your way toward the court. Having a professional pickleball bag for women will help you feel good and confident on your way to your games. 
Material
Last but not least, material is very important when it comes to ensuring the durability of your bag. Pickleball bags are usually made out of polyester or nylon, which are water-resistant, high-strength, and durable materials that can protect your stuff from outside dangers. 
Best Women's Pickleball Bags You Should Buy
Now, let's go through our list of the best women's pickleball bags you should buy, and navigate each product one by one. We hand-picked these bags because they excel in different ways. Figure out what your biggest need is on the pickleball court and go from there! 
Some players like to arrive completely prepared for their pickleball games. Tapes, sports drinks, extra shoes and garments, medical supplies—you name it, they have it. If you're this type of player, you'll need a bag with a lot of space and multiple compartments. The JOOLA Tour Elite Pickleball Bag has just that.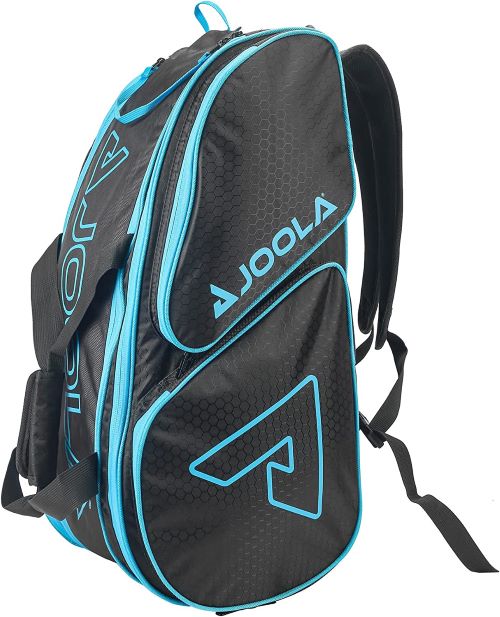 | Pros | Cons |
| --- | --- |
| Multiple compartments allow easy segregation of different types of items. | The bag might be a bit too bulky for smaller women to carry. |
| It provides more storage space compared to other bags. | It is a bit expensive compared to other bags. |
| Can be used as both a duffel bag and backpack. | Lack of color and style options. |
| It provides good ventilation at the bottom compartment to prevent lingering smells from sweaty equipment. | |
| Thermal-insulated paddle compartments protect your pickleball paddles from heat. | |

The JOOLA Tour Elite Pickleball Bag was designed for pro-pickleball players, so it is sure to meet any player's needs. A bag with multiple compartments with features that protect the player's equipment makes a player well-prepared for a match, regardless if it's a casual or professional game.
The many compartments make it easy to locate your equipment. Need your paddle? Just slide open the large side compartment. Looking for a place to store your wallet? Hide it in one of the four available interior pockets. 
If you are looking for a bag that is pretty affordable yet very handy, try the JDITVYHANO Racket Bag. Yes, that name is a mouthful, but this bag provides pickleball players with a lot of nifty, useful quirks for a really good price!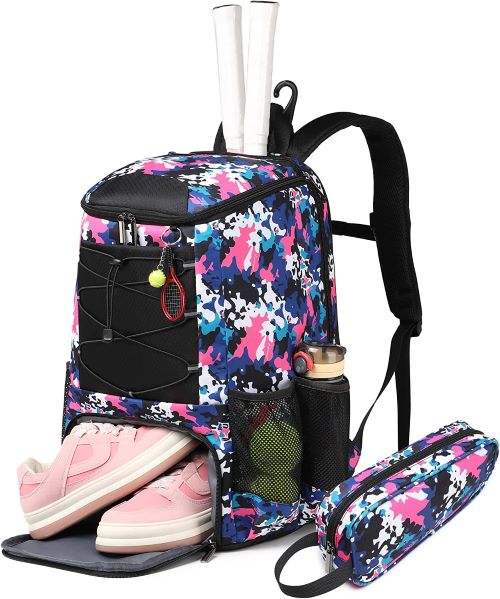 | Pros | Cons |
| --- | --- |
| It has multiple compartments for balls, rackets, and valuables such as phones and wallets. | The nylon material used for the bag is a bit thin and might damage easily if you're not careful while using it. |
| It has wet and dry compartments to segregate your sweaty equipment and liquid supplements. | Its only carry option is a backpack strap. |
| It is made up of water-resistant polyester and has air holes to ventilate compartments from foul odor. | Your pickleball paddle's handles might stick out of the bag and hit you on the head or back.  |
| Its small figure makes it easy to carry around. | |
| It is cheap yet of great quality! | |

If you want a quality product, you usually need to shell out a bit more. But if you're lucky, you'll find products that offer great quality for an actually decent price tag. Case in point: the JDITVYHANO Racket Bag.
This racket backpack comes with multiple compartments for storing different types of items. The bag is made from water-resistant material and is equipped with comfortable padding and an adjustable chest buckle for a safe and perfect fit.
Sports bags, especially pickleball and tennis racket bags, are usually made up of polyester and other synthetic materials. While they are durable and tend to last longer than other materials, they will still wear and break down over time. Once they do, they get thrown out, which contributes to the increasing waste problem our environment faces.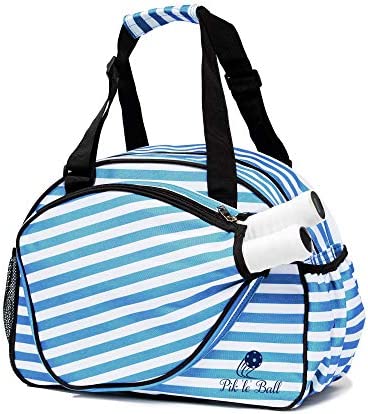 With the Pik'le'Ball Premium Pickleball bag, you get to play your part in reducing waste. The bag is partially made from recycled plastic to help minimize the negative impact of plastic waste on our environment.
| Pros | Cons |
| --- | --- |
| It is partially made up of recycled plastic. | Limited storage space. |
| It is small and lightweight, making it easy to carry. | Only has a few compartments so your stuff might get mixed up. |
| The bag is equipped with rubber feet on the bottom to avoid dirt or water from reaching your bag when you place it on the floor. | Its only carry option is a duffel bag strap. |
| The designs are quite cute and quirky. | |

Although it is made up of recycled plastic, it is quite durable and the lining of the bag is protective enough to guard your rackets from external factors. The bag has undergone tests to prove its durability and the company even offers to give you your money back if you are not satisfied.
Living up to its brand name, the Queen of The Court Pickleball Bag is a pickleball bag for women that is excellent all-around. From its material to its many designs, it is the perfect bag for the queens of the pickleball court.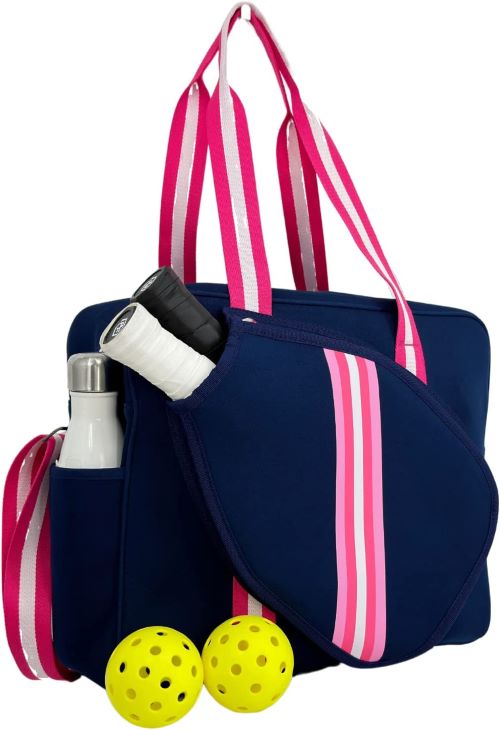 | Pros | Cons |
| --- | --- |
| The material is highly durable yet soft enough for a comfortable experience. | It has a high price tag. |
| It has multiple compartments to hold water bottles, multiple paddles, and various essentials. | It's the smallest bag on the list.  |
| It can be worn as a sling bag or held as a gym bag. | |
| It comes in various designs that are aesthetically pleasing and "Instagrammable"! | |
| The paddles are located in a separate exterior compartment for easy storage and removal. | |

What separates this bag from the others on this list is it is made of neoprene, which is a material also used for scuba diving wetsuits. This makes it durable and waterproof, while also giving it a soft texture to add to your comfort.
The brand offers multiple beautiful and cute designs you can choose from, so you can easily match your bag with your on-court outfits. With its combination of aesthetic value and functionality, it truly is royalty among pickleball bags.