What are the best pickleball skirts to wear, and why should we care? Well for starters, athletes of all sports believe in Hall of Fame cornerbacks' Deion Sanders' idea of look good, feel good, play good. And with a fashion-forward, functional pickleball skirt, you can do exactly that.
Just like other competitive sports, pickleball players benefit from solid performance wear. Physical movements like lunging, sprinting, and stop-start action, comfortable gear that you can sweat it out with but keeps you looking stylish and feeling confident is a no-brainer.
But with tons of women's athletic skirts on the market, how do you choose the best for you? Let's dive into the Buyer's Guide and find out. 
Buyer's Guide for Pickleball Skirts
Now that you're one of millions who got sucked into the pickleball craze, you're probably eager to get some pickleball-appropriate attire like a cute pickleball skirt before you step on the court. 
Just like pickleball gloves, skirts are also important to invest in when you're playing this great game. Wondering what factors to consider when choosing between various pickleball skirt options? We got you. 
Breathability: Find Fabric that Feels Good and Keeps You Dry
The last thing you want during a pickleball game is to feel constricted and sweaty in your pickleball skirt. Look for ones that have moisture-wicking fabric. This type of material pulls sweat from the inner to the outer surface so it can dry faster while keeping the integrity of the skirt. 
Moisture-wicking fabric is a material for competitive pickleball players or those who play in hot weather conditions. The purpose of moisture-wicking fabric is to keep you feeling cool during those hot summer sessions. Trust me, with how much movement you'll be doing on court, you're going to want a breathable pickleball skirt. 
Functionality: Pockets and Attached Shorts Helps with Strategy
I've played enough tennis and pickleball to confidently say that you should always go with a pickleball skirt that has shorts attached underneath. Although you can dink around with minimal physical effort and still have fun, most pickleball play requires clothing that can handle unconventional movement and the weather elements, ie. the wind. 
Luckily, most athletic skirts come with shorts attached, but double check before buying just in case. 
You'd be happy you bought shorts attached to skirts when the wind becomes a factor. It's important to focus on your pickleball strategy, and if you're worried about your skirt flowing up and revealing your underwear, that can deter you from your game play.
Did you know that some shorts come with pockets to hold balls? While this isn't necessary, purchasing pickleball skirts with pockets for maximum functionality is convenient when you're drilling with another player and don't want to chase balls every so often.
Having an extra pickleball on hand can also be a type of strategy during play. One strategy that many teams use is speeding up the time between points during momentum shifts. If you and your partner feel a momentum shift (winning a few points in a row), one strategy is to speed up play during the serve. If you have a ball in your pocket, you don't need to go track one down before playing the next point. 
Pro Tip: The majority of pickleball skirts that have shorts attached are loose enough to tuck pickleball balls in them and tight enough to keep them in place even during vigorous movement. I see players do this all of the time. 
Style: Looking Professional can Intimidate Opponents 
Let's be honest, we all want to look good on the pickleball court. It goes back to that famous saying, look good, feel good, play good. Patterns, colors, solids, pleats, ect. all speak to the type of style in a women's pickleball skirt.
So how do you decide what's fashionable these days? Most recreational players look to the professionals on tour to see what they're wearing. 
Anna Leigh Waters and Lucy Kovolova, two professional pickleball players that are known for their skill and fashion, sport the highly trusted and long-time sportswear brand Fila®. With their sleek design and athletic fit, you can't go wrong with a Fila® women's pickleball skirt in the fashion department. The best part about the Fila® pickleball skirts is that it's usually paired with a pickleball shirt that completes the outfit. 
When you and your partner look professional, it can intimidate your opponents while also making you feel like a professional. Think about it, when you roll up to a tournament and play a team with matching outfits, how do you instantly feel? You're probably thinking they know what they're doing. Remember, any mental edge helps. 
Comfort: Feel Good to Play Better
Pickleball is a game of strategy, and your focus should lie on gameplay rather than fixing your attire.
Restrictive waistbands, constant adjusting of your pickleball skirt when it rides up, or any other type of altering is distracting and downright annoying when you're trying to construct points. 
This is why it's best to look for a wide elastic waistband and a size that makes you feel comfortable for your body type. I like the wide elastic waistband on my pickleball skirt because it doesn't give me a muffin top and keeps me feeling confident. 
Pickleball Skirt vs. Skort: What's the Difference?
A skirt covers the upper legs, draping down from the waist. A skort is simply a skirt with shorts underneath. However, the majority of pickleball skirts have shorts attached, so when I call out pickleball skirts here, I am referring to skirts with the shorts attached. 
TL;DR: Best Pickleball Skirts
With tons of women's pickleball skirts on the market, how do you choose which one suits you? Check out this fire round-up of performance wear and quickly browse the features with each.
Looking for fun patterns, comfortable fit, performance-driven design, and versatility in your pickleball skirt? This one's got it all. With over 6,500 global reviews and an average 4.4-star rating on Amazon, feel confident with this purchase. 
If you're privy to athletic wear, you've probably never heard of Ekouaer. They're a sleepwear brand, but have been around since 2015 and have researched various types of fabric combinations for comfort and breathability. And they didn't stop with sleepwear. 
Ekouaer's skort is made with 100% polyester fabric– a popular choice in the sportswear industry because of its strength and durability. Polyester is made out of plastic fibers, giving it a light-weight feel that's both wrinkle-free and long-lasting. 
With its incredible athletic benefits and lesser known brand name, it's got an affordable price that gets the job done in function and fashion.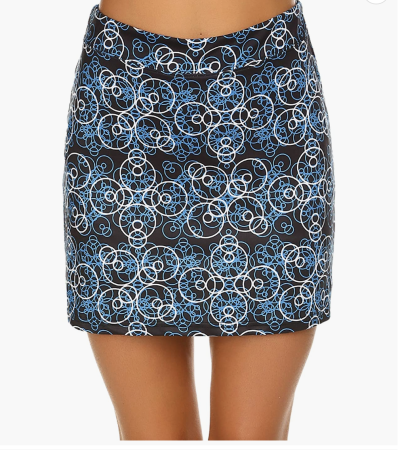 Pros:

Elastic closure for comfort and size flexibility

Moisture wicking, breathable fabric for dry and cool wear

Wide elastic waistband, suitable for all body types

Headphone cable hole and pockets

Performance and lifestyle wear design

Cons:

Stuck on one type of style

Few to no vibrant color options 
While many of the top performing pickleball skirts are marketed in the tennis section, there are some pickleball-specific brands that are making their way in the market. Avi is the first pickleball brand and one that is known for their well-constructed, expert-designed clothing. 
If you're one who loves pickleball as much as you love the planet, this brand is for you. Avi combines function, form, and feel with their sustainable practices. They ensure that their partners practice fair labor laws, source materials and manufacturing from companies that follow strict environmental practices, and minimize carbon footprint. 
With your Avi cross-court skirt, you're getting minimalist-inspired style, functional benefits for pickleball enthusiasts and pros, and all the good feels of supporting a brand that goes beyond sportswear.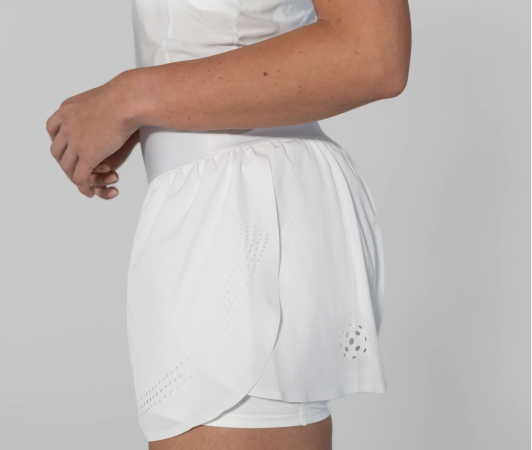 Pros:

3" elastic band, suitable for all body types 

Built-in 4" liner

Recycled materials 

Side pocket with no bounce for phones, wallet, keys, etc. 

Trendy style with accent design

Cons:

Minimal color options

Only 14-day returns 

Higher price 
Want to stay stylish on the pickleball court? With its tiered ruffle design and flattering print, this skirt is a showstopper. And Anna Leigh Waters, the number one women's player in the world, wears it. If it's good enough for her, it'll be worth the purchase.
Did you know Fila® was created in Biella, Italy by the Fila brothers in 1909?! What was once a company that made clothing for people in the Italian Alps became a brand that manufactures sportswear for men and women of all ages.
Fila's® 109 year history not only makes the brand credible, but its performance-driven and classic style is proven worthy amongst world-class athletes like John McEnroe and Kim Clijsters. Although bigger brands emerged ahead like Nike and Adidas, Fila® is making a comeback with its bold colors and style that appeals to a younger generation while keeping its prices affordable.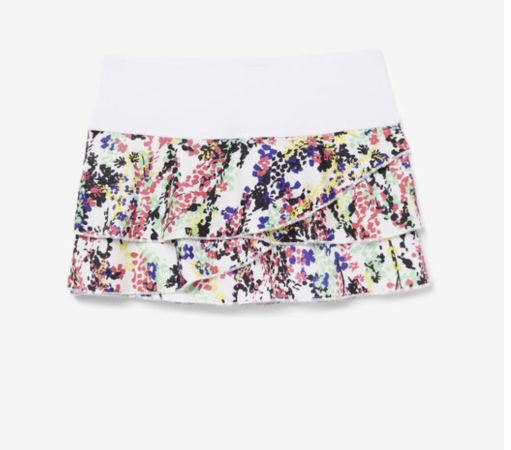 Pros:

Worn by Anna Leigh Waters 

Stretch jersey fabric for comfort and flexibility 

Holds a pickleball in the shorts

Trusted brand in the court industry

Affordable price

Cons: 

Only available in shorter length 

Few options 

Items sell out fast 
You may have heard of the brand HEAD if you've come from the tennis world, but they quickly made their mark on the pickleball scene. Their gear is trusted by many, and their apparel is no different. 
HEAD's skirt is made with 90% polyester for the ultimate durability and strength and 10% spandex for just the right stretch to hug your body. Its light-weight, breathable material is designed for those who need total body movement to lunge, sprint, and reach for the pickleball ball. 
HEAD is now well positioned in the pickleball world, capturing many of the top pros with their paddles and gear. Some of their ambassadors feature big names like Sarah Ansboury and Steve Deakin.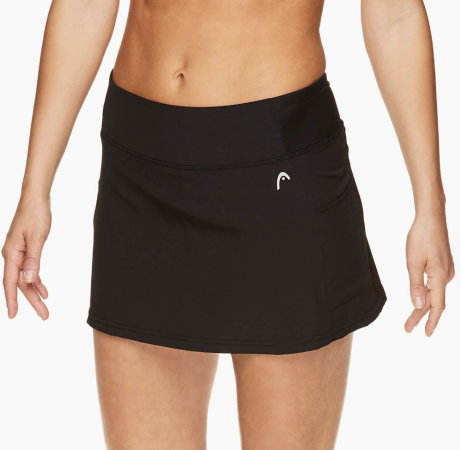 Pros:

90% polyester, 10% spandex for soft, smooth feel

Breathable, moisture-wicking fabric to keep you comfortable and dry

Versatile fit for multiple sports including tennis

Snug banded waist that moves with you for a secure fit

Pocket to hold balls 

Affordable price

Cons:

Designed for tennis so pickleball balls may seem tight to fit in pocket 

Limited color options

Solid color options only 
Now you can wear a pickleball skirt when it's a bit chilly outside. Ditch the tight-fit, revealing leggings and unflattering sweats and go with a skirt/legging hybrid option. 
It's tough finding an athletic skirt with leggings attached. Many people succumb to purchasing athletic leggings and a skirt to pair together. That just makes the bottoms bulky and uncomfortable. Luckily, ANIVIVO made a product for the customer who wants to sport their skirt in wintry conditions. With over a 4-star rating on Amazon, you can feel confident about your purchase. 
But is it that important to layer up during cooler temperatures? Won't your body start to warm up when you get moving? Of course the more you move the warmer your muscles get, but initially it's important to start doing physical activity with your muscles already warm. 
The benefits of wearing a base layer (leggings) under your athletic wear (skirt) is to keep your body warm BEFORE you start playing. You're more likely to sustain injuries with cold muscles than with warm muscles. The colder your body becomes, the less blood flow gets to your arms and legs, impairing muscle function. 
So the next time you want to play pickleball in cooler temps, be sure to layer up with an ANIVIVO skirt and legging combo.
Pros: 

90% polyester, 10% spandex for soft, smooth feel

Flare skirt with ¾ length leggings attached 

Lightweight and stretchy fabric for ultimate comfort and movement 

High waist for slimming look

Multiple styles and designs

Cons: 

Pockets may not be suitable for pickleball balls  

Only dark color options that could get hot during sunny days
Final Thoughts
There's not a one size fits all when it comes to fashion and feel, so check out the features and benefits to find a pickleball skirt that's right for your gameplay. Go with trusted brands. See what the top pros are wearing. And choose a style that speaks to your personality. 
There's a ton of options out there, so find the best fit for YOU.