Pickleball is starting to get noticed all across the world as an exciting and competitive sport. More and more pickleball players have invested in equipment, court rentals, and club memberships.
However, there are people who have taken those investments to a whole new level, like Tom Brady. He saw pickleball as a pretty neat sport and bought a Major League Pickleball club, despite not being a pickleball player himself.
Who is Tom Brady?
Tom Brady is one of the most influential athletes in the world. In fact, he is in the argument for the best player of all time in the NFL—otherwise called the "GOAT" or Greatest Of All Time in sports.
Brady is known as a winner and there is not a hint of exaggeration there whatsoever. He was a quarterback for the New England Patriots for most of his career, and more recently joined the Tampa Bay Buccaneers. In total, he has won a whopping seven Super Bowls and three MVP titles.
He tore through history by achieving the most wins, most career touchdown passes, most career completions, most playoff wins, and so much more. He also bagged Athlete of the Year in the ESPY, Sports Illustrated Sportsperson of the Year, and Associated Press Athlete of the Year.
His feats are untouchable, making him not only the best NFL player in the world but also one of the best athletes who ever lived. 
Celebrities in Pickleball
If Brady is such a big shot in the world of sports, why would he be interested in a small sport like pickleball? Well, pickleball is growing… and it is growing fast. This sport has been catching the attention of numerous high-profile athletes everywhere. Here is a list of notable athletes and celebrities that bet big on pickleball.
LeBron James
Arguably the GOAT of basketball and Brady's counterpart in the basketball world, LeBron James has invested in pickleball as well. Major League Pickleball (MLP) announced on September 28, 2022, that it had obtained a seven-figure investment from a group led by James to purchase a new club.
This actually opened the floodgates to a lot of other new investors expressing their interest as well. MLP strategic advisor Anne Worcester stated that the league has had more than 100 inquiries from interested owners and sponsors since the announcement of James' involvement.
Naomi Osaka
The once-dominant tennis phenomenon, Naomi Osaka, has invested in a Miami-based pickleball team. She joined Kansas City Chiefs quarterback Patrick Mahomes, fellow tennis player Nick Kyrgios, NBA super-agent Rich Paul, and entrepreneur Matthew Pritzker.
Not much information has been released about this as of the time of writing, but the team is bound to get a lot of support based on the high-profile list of investors.
Drake & Michael B. Jordan
Investors are not limited to famous athletes. A-list artists and actors such as Michael B. Jordan and Drake have entered the fray, as well! The Creed actor and the five-time Grammy Award-winning rapper announced in July 2023 that they had both invested in the Brooklyn Aces, one of the clubs in Major League Pickleball.
The pair are known to have a passion for sports. Drake is extremely passionate about the NBA and the Toronto Raptors. Meanwhile, Jordan has done a lot of work with the NBA2K video game series. Now, they take their interest—and money—to the hot and rising pickleball.
Drew Brees
Drew Brees, a legendary New Orleans Saints quarterback and long-time rival of Brady in the NFL, has become part of the ownership group of the Mad Drops Pickleball Club. Interestingly enough, he actually got a head start on Brady in investing in the sport by doing so in July of 2022. 
Brees is joined by other notable names from the sports industry such as Los Angeles Lakers co-owner Jim Buss, Milwaukee Bucks co-owner Marc Lasry, and tennis player James Blake.
Tom Brady Buys Pickleball Team
Just like the athletes mentioned, Tom Brady senses the potential of pickleball in the sports world. Because of that, he invested right away in a Major League Pickleball team. The MLP official X account wasted no time in announcing.
The tweet stated: 
"BREAKING NEWS! We are excited to welcome our newest team owners, including 
@TomBrady and @Clijsterskim, to the @MajorLeaguePB family! " 
— @MajorLeaguePB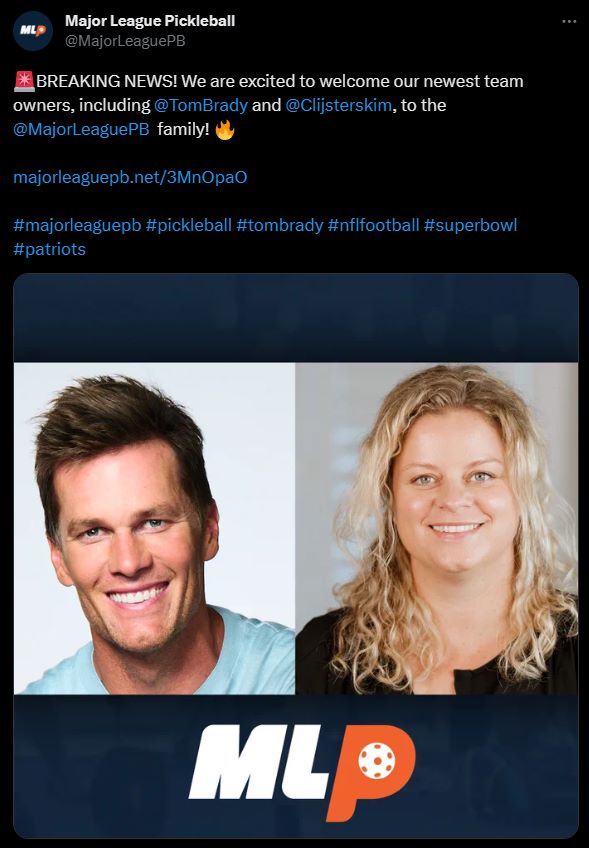 As the tweet shows, he is not alone in his investment in the sport. With him is women's tennis legend Kim Clijsters, who also expressed interest in the sport. He and Clijsters are part of the Knighthead Capital Management group. Which aims to buy an expansion team in Major League Pickleball. The league is planning to add four more teams to the existing 12. Then expand it further to 24 teams in the next season.
Even though the sport is still considered to be growing, the league is already planning to double its number of annual events to six events in total and is set to give out more than $2 million in prize money. That's no spare change if you ask me.
With his competitive spirit and drive to win, Brady looks to dominate yet another sport especially after he retires. Which in perspective should not be long from now.
Tom Brady's Impact on Pickleball
With his investment, Brady has done a lot to promote pickleball.
He even announced his intentions towards the sport in an Instagram video where he said the following:
"Look, I've been trying to find a way to extend my professional sports career, in my 40s, even into my 50s, 60s, 70s! As long as I can, right? And I think I got the answer," he said. "Seems like everyone else has the answer too — pickleball!"
This shows that not only does he want to invest in the sport. But he also wants to actually play the game himself when he is older and retired! Older players and those with physical limitations have no problem playing pickleball since the sport is quite versatile. It isn't limited to those who have superior athletic ability.
Pickleball's easy-to-play yet competitive nature makes it such a good sport to invest in. In other words: less effort yet maximum entertainment.
Brady's move has caused ripples to form in pickleball. 
"When Tom Brady made a captivating video about why he feels passionate about pickleball, that literally doubled our followers in one day,…"
Brian Levine, Interim Chief Executive Officer of Major League Pickleball
With both his influence and his active participation, it is certain that a lot of people will turn to the sport in the near future. In fact, we might see a lot of celebrity tournaments—such as the already successful Pickleball Slam and maybe a Tom Brady pickleball league—pretty soon. 
Wrapping Up
With all that being said, you can say that pickleball and Tom Brady are a match made in heaven. Through pickleball, he can continue to compete even after his glory days. As a sport, pickleball is an equalizer for people of all ages, regardless of how strong, fast, or nimble they are.