Premium pickleball paddles make good investments for competitive players and enthusiasts alike. If you are serious about playing a sport such as pickleball, you're probably looking at all paddle options available in the market (there's a lot, we know). And you're probably looking for a paddle that can give you the right balance of style and substance. 
In this article, we list the most expensive pickleball paddles. Keep scrolling to learn more about the different brands and their features.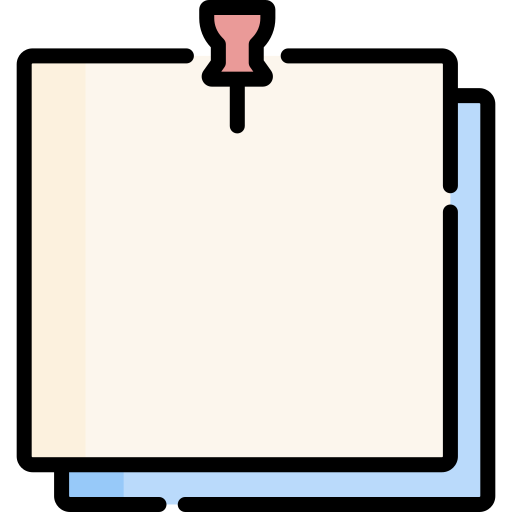 DISCLAIMER:
The prices listed in this article are true as of August 2023, which is the time of writing.
What is the Most Expensive Pickleball Paddle?
The most expensive pickleball paddle today is from Selkirk. We're talking about the Selkirk Labs Project 003, which we will be discussing in greater detail later on. 
You might ask, why are some pickleball paddles more expensive than others? One thing that makes pickleball paddles expensive is the combination of craftsmanship, technology, and performance. We're talking super-fancy carbon fiber that doesn't just make the paddle strong but also makes it super light. 
Some premium paddles are also customizable—you can tweak the grip to match your style, and the designs are like art you can play with. 
Brands like JOOLA, Prokennex, and Selkirk are sought-after by professionals and enthusiasts alike. Some people are also hooked on paddles endorsed by top players, believing that certain paddles hold the keys to a player's success.
Most Expensive Pickleball Paddles in the Market
We rounded up the most expensive pickleball paddles in the market today that are worth the cost of investment. Be sure to read through all the features thoroughly so you'll be guided before purchasing one. 
ProKennex Pro Flight Pickleball Paddle
ProKennex has established itself as a brand known for innovation. You can count on them to produce high-performance sports equipment, and the Pro Flight is one of the most outstanding pickleball paddles from the brand. It is as big as any standard pickleball paddle, with a rectangular face. It's part of ProKennex's Flight Series, known to be more lightweight compared to ProKennex's original releases.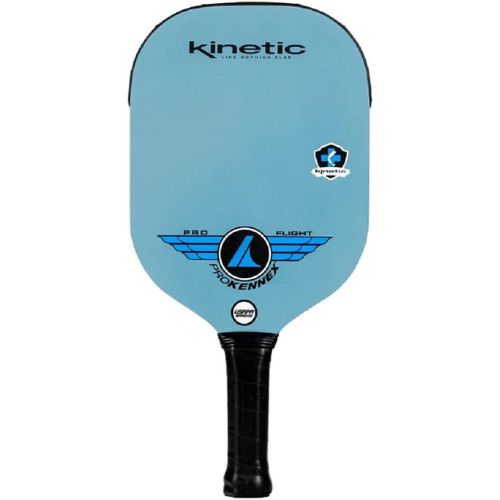 The ProKennex Pro Flight Pickleball Paddle is a premium sports equipment designed for pickleball enthusiasts looking for superior performance and quality. Its relatively high price point is justified by the combination of innovative features, advanced materials, and the reputable ProKennex brand.
Features:
Cloud Cell Core made to reduce the paddle's weight

Diamond Frost coating on the surface to resist wear while producing tons of spin

Weight: 7.3 to 7.6 oz

Uses Kinetic System technology, a special design that reacts evenly to the force when the ball hits the paddle, making it easier for those suffering from tennis elbow or other injuries

Has well-defined, squared edges 

USAPA-approved 
Joola Ben Johns Hyperion CFS 
Joola is a well-respected brand in the world of pickleball. They collaborated with professional player Ben Johns for the Hyperion CFS pickleball paddle. 
Ben Johns has ranked number one in the world in three divisions and is widely considered to be the greatest pickleball player. If a brand collaborates with the world's greatest athletes, it's expected that people would want to own a piece of it. 
Features:
Uses Carbon Friction Surface (CFS) technology that utilizes a more advanced Carbon Flex-5 to give you raw power and maximum spin

Has Hyperform Edge Wall, a specialized foam injected into the parameter of the paddle that adds weight and stability 

Has a paddle shape that provides a larger sweet spot for optimal hitting

USAPA-approved pickleball for tournament play

Average weight: 8 oz

Available in 14 mm and 16 mm
Joola Anna Bright Scorpeus Pickleball Paddle
This next paddle is another player-endorsed paddle. Anna Bright is a pickleball superstar who is known for her aggressive style of play. For this reason, you'll find that the Joola Anna Bright Scorpeus Pickleball Paddle leans toward power. It has a 14mm Reactive Honeycomb Polymer core, which helps to deliver high-level power to any shot.  
Features: 
Wrapped in JOOLA's Sure Grip with 5.25" handle to add swing speed

Charged Carbon Surface Technology, an additive bonding treatment made to strengthen the paddle and create a quicker response, resulting in impressive pop for counteracting fast shots

Has a fully encased carbon-framed design for increased strength and durability

Feel-tec Pure Grip to provide comfort and increased shock absorption

The average weight of 7.8 oz helps you reload and play effective defense 

USAPA-approved
Selkirk Vanguard Power Air Invikta
Dubbed the "optimal paddle for power and spin" by Selkirk, the Vanguard Power Air Invikta features technology unique to this pickleball paddle. It even has several designs you can choose from.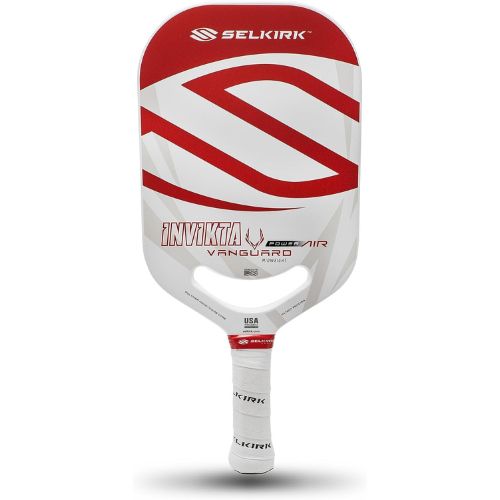 If you are a power player, this pickleball paddle is for you. Aside from delivering power and full control, the Vanguard Power Air Invikta features a larger sweet spot than traditional power paddles. According to Selkirk, this is their most aerodynamic paddle. Professional player Tyson McGuffin also uses this. 
Features:
Limited lifetime warranty

Boasts Prospin+ NextGen Texture—a Selkirk technology that generates more spin than any technology on the market, providing long-lasting maximum spin surface

Quadflex 4-layer Hybrid Face—two layers of Fiberflex and two layers of Quantum+ carbon for extra power and control

Supercore Polymer Honeycomb Core for a consistent and familiar feel

Mid-weight range: 7.7 to 8.1 oz

Grip circumference: 4 ¼"

USAPA-approved 
Engage Pursuit Pro Ultra EX 6.0
The latest pickleball paddle from Engage Pickleball is their most advanced ever. It uses technologies and new innovations that make this paddle a choice for many professionals, including Jessie Irvine, Dekel Bar, Yates Johnson, Hunter Johnson, Darrian Young, Yana Newell, and Alix Truong, to name a few.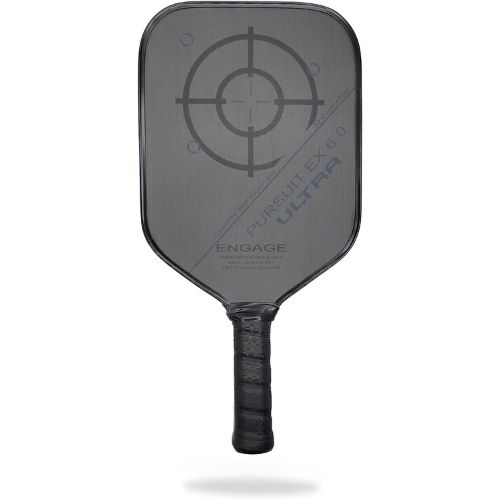 The Engage Pursuit Pro EX 6.0 is known to be the most responsive paddle in the market, thanks to its combination of graphite skin and 'black' core.
Features:
Raw T700 carbon fiber skin to add grabbing power and longevity of the equipment

Vortex Barrier Edge Technology—a composite injected for weight distribution and vibration control

Uniform Guard Technology bonds the edge guard and paddle for an overall  improved force distribution

Thick core for maximum control and feel

USAPA-approved
Selkirk Labs Project 003
The Selkirk Labs Project 003 has a 20 mm core, the thickest core you'll find in a paddle today. The paddle features an innovative polypropylene core that is designed to optimize both power and control.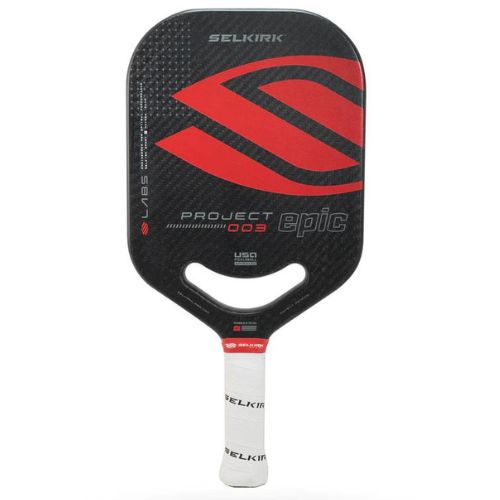 This advanced core technology enhances the paddle's responsiveness, allowing players to execute a wide range of shots with precision. It has a PolyFlex Composite Face that provides a balance of power and touch, allowing players to strike a chord between aggressive shots and finesse plays near the net.
The Project 003 is a result of Selkirk Labs' commitment to research and development. The paddle is backed by performance feedback and data, ensuring that it is designed to cater to the needs and preferences of serious players.
Features:
Textured Surface Technology that contributes to improved grip and ball control

Largest sweet spot of all Selkirk technologies

Provides maximum spin

Designed with an extended length, which can enhance reach and maneuverability on the court

Advanced Polypropylene Core designed to optimize both power and control

USAPA-approved
Are Expensive Pickleball Paddles Worth It?
The value of expensive pickleball paddles depends on your personal preferences, skill level, and budget. Here are some factors to consider when deciding whether an expensive pickleball paddle is worth it for you:
High-end paddles often offer advanced technologies, materials, and design features that can enhance your gameplay. You'll have better ball control, power, spin, and overall responsiveness. Investing in a quality paddle might be beneficial if you're a competitive player looking for that edge.
Your skill level matters. Advanced players can better appreciate the nuances of a high-end paddle's performance capabilities than beginners. If you're a beginner, an expensive paddle might only offer significant advantages once you've developed your skills more.
Expensive paddles are a significant investment. Consider how much you're willing to spend on a pickleball paddle, compared to your overall budget for the sport. You might also want to invest in pickleball shoes, balls, and other items. If that's the case, know that you can find cheaper paddles with good performance elsewhere.
Your play style matters too. Different paddles cater to different play styles. Some prioritize control, power, or finesse. Make sure the paddle you're looking at aligns with your preferred play style.
If possible, try out paddles before purchasing. Many clubs, sports stores, or pickleball events offer demo paddles that you can use to get a feel for different models. This can help you determine whether the features of an expensive paddle suit your playing style and preferences.
Expensive paddles often use high-quality materials that can lead to better durability. Cheaper paddles might wear out faster and need replacement sooner, potentially costing you more in the long run.
Established brands that produce expensive paddles often have a reputation for quality and performance. While this doesn't guarantee a perfect product, it can indicate reliability.
Conclusion
Whether expensive pickleball paddles are worth it depends on your individual circumstances. It's always good practice to do some research, read reviews, and try out different paddles to determine which one aligns with your preferences and needs before putting money into it. 
The investment might be justified if the paddle's performance significantly enhances your enjoyment and skill on the court. However, remember that skill development and practice are still key factors in improving your game. Your paddle helps, but it won't miraculously make you a better player.