Having the right gear and accessories is a must for pickleball players who are looking to improve.
A good pair of shoes is one of the most important pieces of equipment for any athlete. They protect your feet, provide support and stability, and allow players to move quickly around the court. Moreover, a great pair of shoes will last you years and is cheaper over the long-term.
In this guide, we'll breakdown the best pickleball shoes and some of the top options available in the market.
What to Look for in Pickleball Shoes
There's a big difference between pickleball shoes and your average sneakers. If you've been using an old pair of running or rubber shoes to play pickleball, you might have already run into some problems with them. 
This is because pickleball shoes are considered "court shoes" and are built differently from traditional rubber shoes. Court shoes have toe guards to protect against toe dragging, have non-marking soles to minimize damage to the court, and have soles built for lateral movements.
We'll talk about all of this in detail below, so remember these key factors when buying your next pair of pickleball shoes.
Support and Cushioning
As mentioned, pickleball involves a lot of lateral movement and quick stops. This puts a lot of stress on your feet, especially to the sides.
On typical rubber shoes, your feet and knees will absorb the impact of these movements, leading to discomfort or even harm. Proper support and cushioning both ensure that your feet are comfortable throughout the entire game. Allowing you to play pickleball longer and reducing the risk of injury.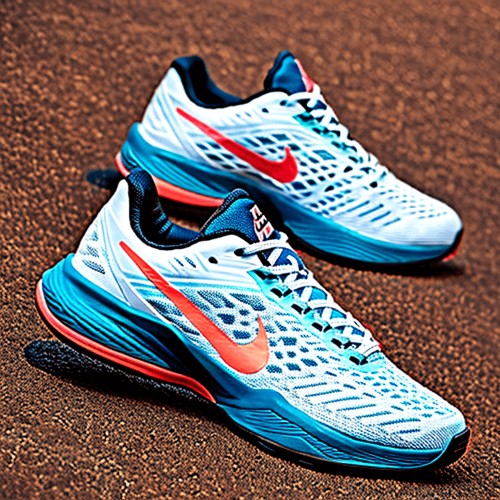 To ensure that your feet stay protected during the game, these are the best support and cushioning features to look out for:
Collar and Tongue padding — Extra cushioning around this area will support the ankle, reducing the chances of sprains or long-term joint pain
Shock absorbent soles — Midsoles and insoles need the most cushioning for shock absorption. These soles are typically made with thick and soft rubber, air pockets or gel inserts between the soles, or sole material from EVA Foam
Arch support — Because pickleball involves a lot of quick movements, the motion of the legs and ankles can flat feet. This is when there is no arch and your feet is completely flat. This can cause inward rolling, causing strain and injury to your ankle and feet. Arch support prevents this issue by ensuring your feet is always doing a normal arch.
The right amount of support and cushioning lets you move confidently and comfortably on the court, without worrying about foot fatigue or injury.
Traction and Soles
When it comes to sports with a quick and sudden movement, having good traction is a must. Playing pickleball without proper traction means slipping or sliding on the court, which not only affects your performance but is dangerous.
To avoid this, look for shoes that have the perfect outsole materials for great traction. Here  are a few of the best materials and tread patterns:
Rubber
Non-marking rubber
Gum Rubber
Herringbone pattern
The sole should be able to provide traction on both indoor and outdoor courts. 
Indoor pickleball courts though typically require non-marking rubber, which is a type of rubber that's soft and designed to not leave marks or scuffed on the court. Gum rubber is an example of non-marking rubber. However, this type of rubber will deteriorate quickly when used off the court, for uses like jogging, playing outdoors, and so on. Outdoor pickleball courts will need a harder type of rubber, but with tread patterns like herringbone to still remain grippy.
If you're mainly an indoor player, get gum rubber court shoes and make it a point to only use them when you're on the court. For outdoor pickleball players, normal rubber with a tread pattern like circles, wave, hexagonal, and herringbone are best. Lastly, if you're the type to play both indoor and outdoor, look for non-marking rubber that isn't gum rubber. And remember! Clean your shoes after playing outdoors if you're going to play indoors. Indoor pickleball courts are expensive to maintain, replace, and even clean.
Shoes with grip and traction allow you to make sharp turns, stop abruptly, and perform other sudden movements with ease while playing pickleball.
Durability and Toe Guards
Durability is a critical factor to consider when choosing pickleball shoes. As pickleball requires a lot of quick movements and changes of direction, especially to the toe area. This is why pickleball and tennis shoes have a toe guard, to prevent wear and tear from toe sliding. This is also another differentiating factor from court shoes and normal running shoes—the toe guard. 
Leather and synthetic materials are both popular choices for their ability to hold up over time. Leather shoes are durable and offer good support, but they tend to be heavier than synthetic materials.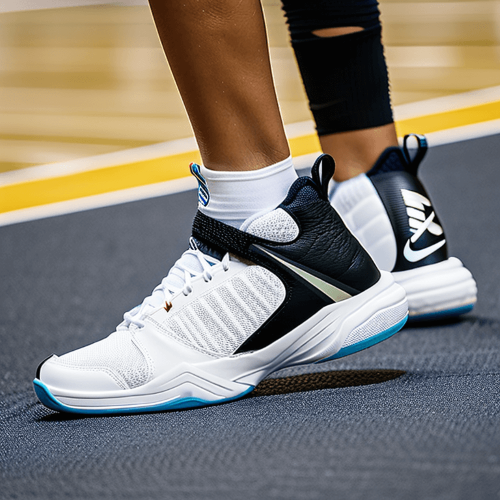 Synthetic materials like mesh and nylon are lightweight and breathable, making them a great choice for players who want comfortable shoes. Additionally, synthetic materials are often more affordable than leather, making them an excellent option for those on a budget. Whatever material you choose, look for shoes that are well-constructed and have reinforcements in high-stress areas, such as the toe box and the heel. 
Additionally, it also helps to buy shoes from a reputable brand in this field. These brands generally have repair shops, warranties, and a bunch of other helpful out-of-the-box features that help preserve your shoes.
Fit, Comfort, and Stability
The right fit is crucial because it affects your comfort, stability, and safety on the court. A shoe that is too loose can cause your feet to slide around inside, leading to blisters or even ankle injuries. On the other hand, a shoe that is too tight can restrict blood flow and cause discomfort or pain.
It's essential to find a shoe that fits your foot snugly, with enough space for your toes to move around freely. 
If you're thinking of buying a shoe online, we recommend going to nearby shops first and finding your shoe size accurately. Bonus points if it's from the same brand you're looking to buy and if it's the same shoe.
Breathability and Material
Sweat building up inside your shoes can cause blisters and discomfort when playing. Not to mention, sweaty feet lead to rancid smells. Breathable shoes have some kind of mesh or perforated areas that allow air to get in and out of the shoe. Circulation, even small, can drastically improve the comfort of your feet as well as the dryness. 
Top Pickleball Shoes on the Market
There are plenty of shoes to choose from on the market, but which ones are the best for pickleball? Here are some of the top pickleball shoes you can buy right now and what they're best for:
The ASICS Gel-Rocket 9 is a top pick for pickleball players because it offers a great balance of comfort, support, and durability. The Gel-Rocket 9 is also a popular shoe for other indoor sports, like volleyball and badminton, that have abrupt movements.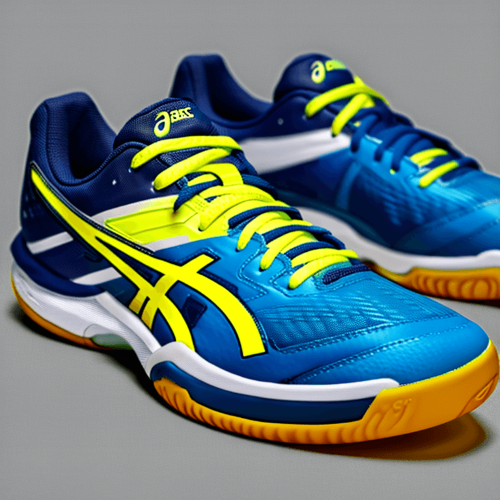 ASICS Gel-Rocket 9 Features:
Proprietary gel technology for forefoot cushioning and shock absorption
Trusstic system technology that decreases the weight of the sole while keeping the midfoot structurally strong
Breathable mesh design that keeps your feet cool and dry
Non-marking gum rubber sole that provides perfect grip for 1indoor courts
Removable sockliner
The shoe features a padded collar and tongue for added comfort and support, which secures the ankle and reduces the risk of injury. The non-marking gum rubber sole provides excellent traction for indoor courts, so you can move confidently and quickly without slipping or sliding. Lastly, ASICS' Gel-Rocket 9 is stylish and iconic, with a design that many players appreciate. It also comes with a wide range of colors. 
The New Balance 696v4 is first all-terrain shoe recommendation. The shoe's outsole is made of non-marking rubber with a herringbone tread pattern, which works for both indoor and outdoor courts.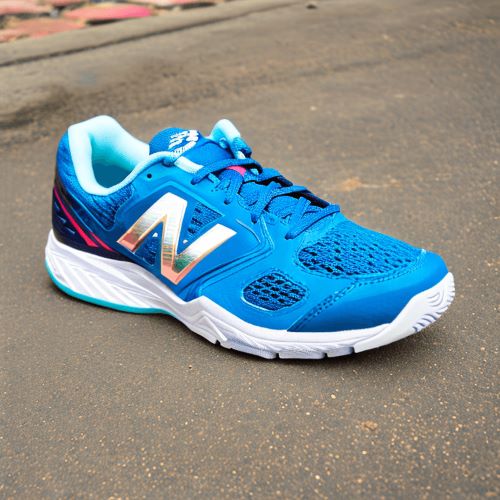 New Balance 696v4 Features:
New Balance REVlite midsole that's lightweight, shock absorbent, and adaptable to feet anatomy for comfort
Stylish and clean design with a single primary color highlighting the shoe
Perforations arounds the forefoot for breathability
Made of lightweight synthetic material
Non-marking rubber for indoor and outdoor courts
The 696v4 is also affordable compared to other high-end shoes, yet has great value for its features. Considering New Balance has been decorated with many praises for comfort and durability over the years, the 696v4 is very easy to recommend. It's stylish, durable, and can be used on any type of court. All in all, it's a popular favorite shared by many pickleball players.
The Adidas Barricade Club is a versatile shoe that works for both indoor and outdoor courts. The Barricade Club uses a durable, non-marking Adiwear outsole that provides excellent traction. Adiwear and Adituff are Adidas proprietary technologies.
Adidas Barricade Club Features:
Outsole made of non-marking Adiwear rubber for indoor and outdoor courts
TPU (thermoplastic polyurethane) mesh and 100 percent textile upper design for comfort, breathability, and circulation
Proprietary Adituff toe cap for protection against toe sliding
Lightweight yet durable
The Adidas Barricade Club also has the iconic Adidas style that many players appreciate, with a range of color options to choose from. The shoe overall is best known for it's breathability and lightweight material. It's a very functional and versatile shoe. 
The K-Swiss Hypercourt Express is a lightweight and comfortable shoe that's ideal for quick players who love moving around. The Hypercourt Express isn't the most fashionable shoe on this list though, but it's compact with features that are designed for pickleball players.
K-Swiss Hypercourt Express Features:
Comfortable with lots of cushioning and support, padded tongue and collar. One of the more "fuller" shoes on this list
Mesh upper for circulation
Synthetic leather and mesh combination makes the shoes durable yet lightweight and breathable
Outsole made with Aosta 7.0 rubber, a high-density rubber that provides excellent traction and durability for outdoor play
The K-Swiss Hypercourt Express design isn't modern by any means, but it's a classic style that has aged well. Again, the shoe is a great option for players who prioritize speed and agility on the court. 
The Wilson Kaos 2.0 is a stylish and solid shoe for pickleball players. It's made of lightweight material, mainly mesh, that keeps it breathable for sweaty feet. The Duralast outsole, a proprietary compound developed by Wilson, provides excellent traction on both indoor and outdoor courts.
Wilson Kaos 2.0 Features
Synthetic casing on the upper area of the shoe that provides more grip on your feet, locking it in place
Proprietary Duralast outsole, Wilson's own high-density rubber compound that was developed for tennis players
Proprietary Symbiofit design for improved comfort and adaptive fit to the player's feet. The shoes come with a molded heel center that adapts to the heel of the wearer and the lacing system is designed to properly wrap around the top of your feet
Wilson originally made these shoes for tennis players, so if you're a pickleball player that plays on tennis courts, this should be perfect for you. The Kaos 2.0's design is also stylish and loud, something that helps you stand out from other players on the court. This shoe is a great option for players who prioritize style, play on tennis courts, and want something solid.
Our only gripe with this shoe is that its toe guard isn't as wide as the others on this list.
Other Factors to Consider in Pickleball Shoes
Aside from the essential features of pickleball shoes, there are also other factors to consider when choosing the right pair for you. 
Weight
When buying new pickleball shoes, it's important to think about how it may impact your playing style. If you prefer a faster, more agile approach, you may want to opt for a lighter shoe that won't weigh you down. However, this can come at the cost of cushioning and comfortability. 
On the other hand, if you prioritize stability and support, a heavier shoe may be a better choice for you.
It's important to find a balance between weight and functionality that suits your playing style and needs.
Style
When it comes to style, there are plenty of options available on the market. Some brands offer a variety of color options, while others may have a more limited selection.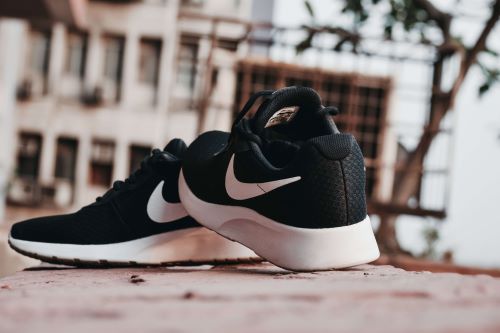 Finding a shoe that performs well and is comfortable on the court is great. But, getting a shoe with a design that works for casual everyday outfits? Even better. Whether you prefer a bold and bright color or a more understated design, there are plenty of options to choose from. 
Just remember, don't use indoor shoes for outdoor walks. The soles for these shoes are not built for rough terrain and will deteriorate quickly.
Price
While it's important to invest in a quality pair of pickleball shoes that allow you to improve and stay injury-free, it doesn't have to be expensive. Some shoes have extra, fancy-named features or a designer brand name that drives up the price, but aren't functionally different from cheaper shoes.
In whatever case, it's important to do your research and find a pair that offers the features you need at a price point that works for you. There are a ton of budget-friendly options in the market that check most checkboxes for pickleball players, and other mid-ranged shoes that some players will recommend for forever.
You should also consider the lifespan of the shoes, meaning how long you expect them to last. 
Caring for Your Pickleball Shoes
Taking care of your pickleball shoes is important if you want them to last for a long time. Not only that, taking care of your shoes also means taking care of the pickleball court you're playing at. By following these simple tips, you can keep your shoes and your pickleball court in good condition.
Clean Them Regularly
Cleaning your shoes regularly is one of the most important steps in caring for them. Wiping them down with a damp cloth after each game can help remove dirt and debris that can damage the shoes over time.
If you have any stubborn stains, you can use a soft-bristled brush to gently scrub them away. Avoid using harsh chemicals or abrasive materials, as this can cause damage to the shoes.
Air Them Out
Air drying your shoes after each game is also important to prevent bacteria and odors from building up. Remove the insoles and laces and leave them in a well-ventilated area to dry. Avoid drying them in direct sunlight or using a dryer, as this can damage the shoes.
Store Them Properly
Proper storage is also key to ensuring your pickleball shoes stay in good condition. When not in use, store them in a cool, dry place away from direct sunlight. Avoid storing them in a damp or humid environment, as this can cause mold or mildew to form.
By taking good care of your pickleball shoes, you can extend their lifespan and get the most out of your investment.
Don't Walk Outdoors with Court Shoes made for Indoors
Walking outdoors with indoor pickleball shoes will destroy the gum rubber or soft rubber outsole quickly. Not only that, indoor court shoes need to be clean, so as to not damage the court and make it slippery for other players.
Soft rubber outsole shoes are the grippiest for playing on indoor courts, but you need to be responsible with your shoes. Having a pair of slides and some socks is a great alternative for when you want to walk outdoors, so carry a pair of slides around.
Conclusion
Finding the perfect pair of pickleball shoes can greatly enhance your performance on the court. By considering the essential features, as well as other factors like weight, style, and price, you can find a pair that not only performs well but also meets your personal preferences. And by taking good care of your shoes, you can ensure they last as long as possible, so you can continue to enjoy the game for years to come.