Pickleball is one of the fastest-rising sports right now, especially in the USA. So, it's not really a surprise that even players from other sports have started to play this beautiful game. More specifically, tennis legends become pickleball stars. 
Notable names such as Andy Roddick, Michael Chaeng, and Maria Sharapova are just some of the tennis stars who have been testing the waters of pickleball and found the sport as a good alternative after retiring from tennis. Two of the biggest names that stand out in the pickleball world for their feats in tennis are Andre Agassi and John McEnroe.
What is the Pickleball Slam?
Pickleball Slam is one of the biggest—if not the biggest—TV events in pickleball. Even though pickleball is often regarded as being the fastest-growing sport in America, it hasn't had much exposure in terms of media viewership. This all changed with the introduction of the Pickleball Slam.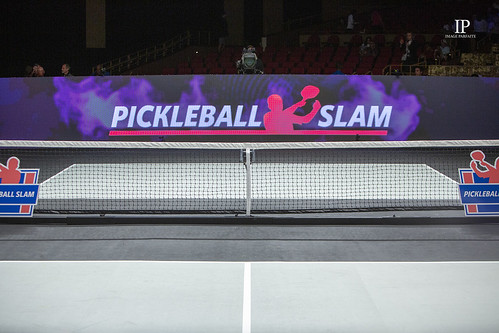 The Pickleball Slam 2023 Recap
The Pickleball Slam event of 2023 featured four American tennis legends namely Andre Agassi, John McEnroe, Andy Roddick, and Michael Chang. They all played for a grand prize of $1 million. It was set in both singles and doubles format, something that favored John McEnroe. 
Roddick and Agassi paired up against McEnroe and Chang. Each singles game won gave their team one point. The event ended with a doubles match in which the winning team received two points. The team with the most points in the end won.
The event aired right after the NCAA Women's basketball championship game and took place at Seminole Hard Rock Hotel & Casino in Hollywood, Florida. For its first event, the Pickleball Slam drew 669,000 viewers in a midday window on ESPN, according to Sports Business Journal. 
Next year's event will also air live on the same network, following the NFL Pro Bowl in primetime.
The Pickleball Slam 2023 Results
The event culminated with Team Agassi-Roddick winning with a 2-point lead over Team McEnroe-Chang. It was truly an amazing showcase of skill where all players flaunted their exceptional pickleball prowess.
In the first singles match, McEnroe overcame Agassi 15-13, 16-14, while Roddick defeated Chang 15-10, 15-10. The doubles match decided the contest, as Agassi and Roddick won by a score of 21-15, 21-23, 12-10.
Singles Matches
Agassi
McEnroe
Roddick
Chang

13

15
15

10

14

16
15

10

Doubles Matches
Agassi and Roddick
McEnroe and Chang
21

15

21

23
12

10
Pickleball Slam 2 in 2024
On February 4, 2024, the second edition of the famous event is set to take place at Seminole Hard Rock Hotel & Casino in Hollywood. It will be aired again on ESPN at 8:30 p.m. ET, with a grand prize fund set at $1 million. There will, however, be a bit of a change in terms of the lineups.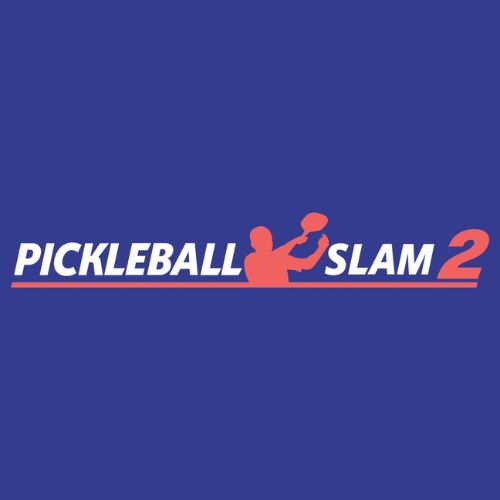 This time, John McEnroe will be pairing up with a legend in women's tennis, Maria Sharapova. Sharapova is the youngest of the quartet at just 36, but once dominated women's tennis with five total Grand Slam titles before retiring back in 2020. With both being powerhouse players, the duo is a force to be reckoned with, especially with McEnroe looking for revenge against Agassi.
They will be facing up against one of the most famous—if not the most famous—tennis couple ever: Andre Agassi and Steffi Graf. Graf was once the most decorated Grand Slam tennis player with 22 titles until Serena Williams broke the record in 2017. The pair played a few exhibition tennis games together but never played in competitive doubles games. Next year, they will get a chance to share the stage again through pickleball.
Although there are not many updates, the event will most probably retain the same format with two singles matches worth a point each, and a final doubles match worth two points.
Tennis Legends in Pickleball
There have been a lot of tennis players getting into pickleball lately, mostly due to the similarities of both sports. Tennis players can integrate pickleball into their cross-training regimens and vice versa. 
Let's get to know these tennis legends and learn why people are making a big deal with their involvement with pickleball.
Who Is Andre Agassi?
Andre Agassi is one of the best players of all time in the world of tennis. He came at a time when tennis needed a flash of brilliance and excitement as it was getting dull. With his star talent and flashy play, Agassi ushered a new era in tennis and took the world by storm.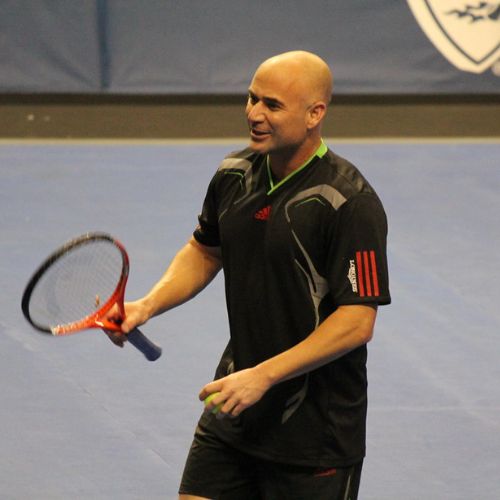 He had a stellar career which was halted only by injuries, specifically his recurring back pain somewhere in 2006. This eventually led to a final farewell run during that year. But he left with a bang, with wins over notable players like Marcos Baghdatis.
When he retired, Agassi shifted his focus to helping the youth who live in the most at-risk neighborhoods in Las Vegas get access to education.
How Many Majors Did Andre Agassi Win?
To no one's surprise, Andre Agassi won a lot of awards. He won 127 hard-court major victories—which is the second most in history—an Olympic gold medal, and only 24 losses. 
He won a total of 8 Grand Slams in the Singles division and has been considered to win the "career Grand Slam" for winning each of the four major tennis tournaments: The Roland Garros, Australian Open, Wimbledon, and the US Open.
Andre Agassi and Pickleball
Agassi really loves pickleball. After winning the first Pickleball Slam, he said this: "After Andy and I took home the hardware at the first Pickleball Slam, I said I would be playing pickleball as long as I can walk—that's how much I enjoy this game". 
He wants to enjoy the sport with his wife, Steffi Graf.
What Is John McEnroe Known For?
While Agassi was known for his flashy and brilliant play on the court, John McEnroe was known for his smooth skill and finesse. He was born in Wiesbaden, West Germany but moved to Queens, New York at an early age. When he was 8, McEnroe started playing tennis. He steadily developed into one of the best players in tennis history.
His playstyle involved a variety of shots that made him versatile. It was very difficult to play against him because he could counter every competitive style that was played against him. With his smooth playstyle, he made the game look so easy.
What is John McEnroe Known For?
McEnroe was a force to be reckoned with. He won 77 singles titles and 72 in doubles while maintaining his #1 rank in both categories. He won a total of 877 games while only losing 198 times in singles. McEnroe's win-loss record for doubles stands at 532-103.
In the 1979 season alone, he won a whopping 10 singles titles and 16 doubles titles.
Overall, he won seven Grand Slam singles titles (four at the US Open and three at Wimbledon) and nine Grand Slams in the doubles category (five at Wimbledon and four at the US Open).
John McEnroe And Pickleball
Funny enough, McEnroe doesn't actually like pickleball as a competitive sport. In an interview, he said that he doesn't enjoy pickleball as tennis is his game. He even said that it's hard to imagine pickleball being a great watch on television. However, he does appreciate the fact that he gets to enjoy the game with his friends since it's easier to pick up and is great for less athletic people.
Why Are Tennis Players Good At Pickleball?
Tennis players are naturally good at pickleball because both sports are like two peas in a pod. They are very similar, save for a few differences in terms of gear, rules, and other nuances of the games.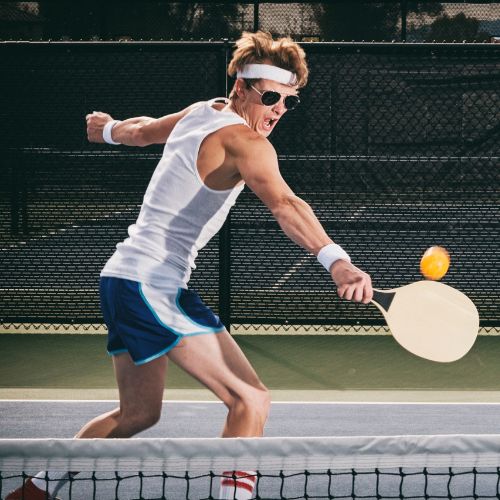 Let's take a look at why tennis players excel in pickleball. 
Similar Playing Grounds and Conditions
The pickleball hardcourt is very similar to the familiar tennis courts. The only obvious difference is that tennis courts are larger than pickleball courts. In fact, you can play pickleball on tennis courts but not tennis on pickleball courts. 
The materials are usually the same—acrylic-surfaced courts or bare concrete hardcourts—except that tennis can also be played on lawn and clay. Nevertheless, there is a sense of familiarity within both courts which tennis players can take advantage of when transitioning to pickleball.
Near Identical Movement and Biomechanics
We all know that both of these sports involve the swinging of a racket or paddle to hit a ball. However, the swings vary as tennis requires more power in their swings compared to pickleball.
The real similarities lie in the footwork. Both sports require quick change of direction and explosive lateral movement. Even more so in tennis due to the larger court size. With that, you can expect seasoned tennis players to have a fun and easy time chasing down pickleballs around the smaller court of pickleball.
This is also one of the reasons why pickleball can be included as a cross-training exercise for tennis and vice versa. Since the same principles in movement are involved, you can train your conditioning in either sport.
Tennis Is More Intense
Tennis has a larger court, heavier racket, and longer games. You can totally argue that tennis is more intense and requires more effort compared to pickleball. Between both sports, pickleball is totally a walk in the park for tennis players.
This is why retired tennis players, both young and old, have no problem playing in high-intensity pickleball matches. They are used to the higher intensity matches of tennis and well-trained to face any challenges on the court.