Pickleball paddles are surprisingly a lot more fragile than people think they are. But, if you think about it, a pickleball paddle only weighs around 7 to 9 ounces. There really isn't a lot of material inside a paddle to make it a heavy-duty, whacking stick.
If your paddles are getting scratches or dents, then you need some pickleball paddle covers to keep your paddles protected. Paddle covers go a long way to preventing damage and lengthening the lifespan of your paddle. Let's face it—them paddles don't come cheap!
In this article, we'll guide you through what you need to know when buying pickleball paddle covers and show you the best covers on the market right now. 
Buyers Guide: Pickleball Paddle Covers
Let's start this article with a quick reality check. There is a big market for pickleball paddle covers, and the online resources for reading about covers can be quite extensive. You'll often read about water and heat resistance, padding, material quality, and so on.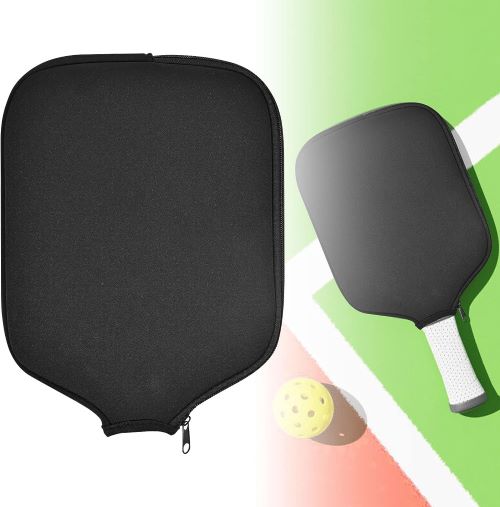 Fortunately or unfortunately, these factors aren't that important. Looking across hundreds of paddle covers online and comparing them with each other, we learned that most paddle covers have the exact same features. Some are just designed differently (aesthetics) or have slightly different sizes. But the materials are the same for almost all paddle covers—Neoprene. They all mostly use zippers too, even though some articles say that you can buy Velcro or magnetic covers. 
The "features" and "technologies"? They're pretty much marketing hype that is present in 99 percent of other paddle covers. 
The pickleball paddle cover market is basically divided into three spaces: White labeling, private labeling, and handmade. 
White labeling

— These are generic paddle covers that are resold with a design change, like adding a brand, stickers, pictures, colors, and so on. So, aside from the design and perhaps some other differences like the zipper or stitching, the cover is pretty much identical to other brands in stores.

Private labeling

— These paddle covers are a lot more unique. They have a different shape or use a different kind of material. They might also have different features or functionalities, like a hook at the top of the cover. 

Handmade

— These paddle covers are the most unique, but you have to make sure to read the product label. Some covers are labeled as handmade, but in reality, only the printing of the design is done by hand. Proper handmade paddle covers are made from scratch.
Around 85* percent of all paddle covers you find on Amazon or online are white-labeled generic paddle covers that simply have a different design on top. 
What Does This All Mean?
This means that you should prioritize design, functionality, and convenience over premium features or leading-edge technologies. Paddle covers do nothing more than protect your paddle from scratches and extreme temperature changes.
*This is my personal opinion, based on my experience of searching for and collecting different paddle covers to review
So, how do you buy a pickleball paddle cover? What should you look for? Keep reading to learn more. 
Size and Fit
The size and fit of the paddle cover is one of the most important considerations for picklers who aren't using a standard paddle. If you have an elongated paddle or a custom paddle with non-standard dimensions, you'll need to check the dimensions of the cover you're buying. 
Remember to give some allowance between the paddle and cover dimensions. You don't want it too tight, especially if the cover you're getting is thick with lots of cushioning. A good rule of thumb is to give around 0.75 inches of leeway between the paddle and your cover.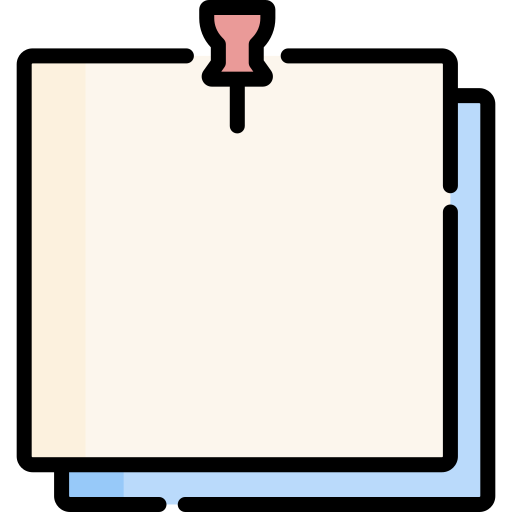 NOTE:
Most product pages or stores don't state the size of their paddle cover. So, it's safe to assume that the cover is made for the standard paddle size. This is about 15.5 to 17 inches long and 7 to 8.25 inches wide.
However
,
it is better to be safe than sorry—so we recommend reaching out to the store or looking at any reviews for issues with the size if you can.
Padding, Protection, and Material Quality
Most pickleball paddle covers are made from neoprene on both sides of the paddle face. This is plenty of cushion for small bumps and scratches. 
However, there are some covers that don't have cushions at all and they're made from nylon. These covers look like waterproof jacket fabric and mainly protect against scratches and rain. These are the lightest types of covers (Granted, paddle covers are generally light already). 
There are other kinds of paddle cover material, such as canvas or polyester. But, these are surprisingly quite difficult to find, so we won't be going over their benefits and features. Some special stores that create handmade covers, like on Etsy, do sell leather and faux canvas covers.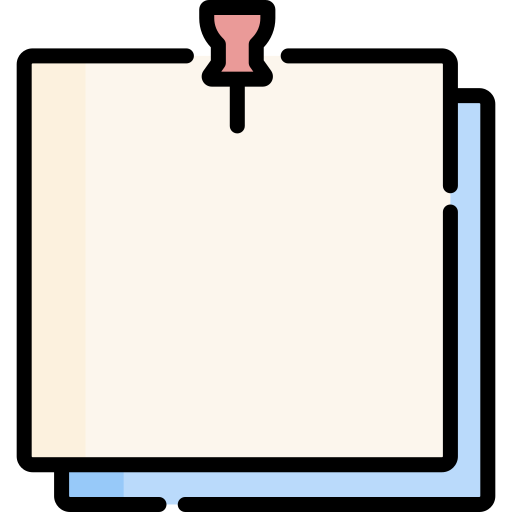 NOTE:
Nothing is going to protect a flying or falling paddle from damage, especially if it lands on a sharp or hard surface. While a cover might save your paddle from scratches or dents, it isn't a replacement for being careful. 
Water and Heat Resistance
One of the main benefits of having a paddle cover is water and heat resistance. Water, rain, or even excessive sweating is bad for your paddle—especially if you don't dry it in time. The paddle itself can get waterlogged, which weakens the core and ultimately weakens the power of your paddle.
On the other hand, too much heat will potentially warp your paddle and then weaken the structure, the same way water does. 
Since most paddle covers are made of thick neoprene, they are generally great at resisting rain or high heat from the sun. Though, you should still make a note to dry your paddle faces properly before storing your paddle in the cover. 
Design
Remember when I said that I looked through a hundred paddle covers? Luckily for us, customers, there are more than a hundred paddle covers to choose from and they all have unique designs. 
Some paddles have logos, texts, and even cute dinosaurs and graffiti over them. You might also find specialty stores that accept custom-made photos—such as photos of your dogs or cats—for the design. 
Considering what I said about how 99 percent of paddle covers are basically the same, white-labeled product, you should spare no expense in finding a cover with a design you like. Chances are, they're just as good as other, professional-looking neoprene paddle covers on the market.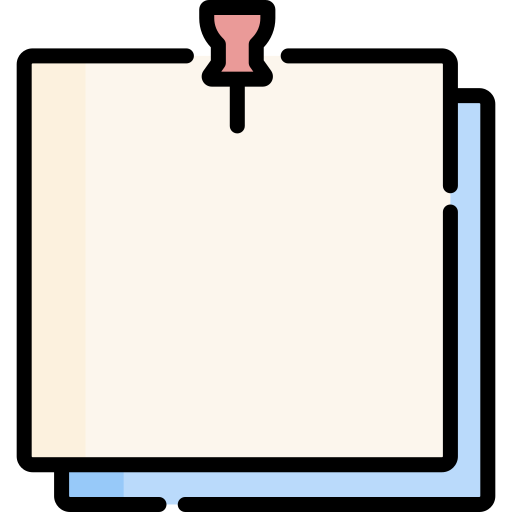 AUTHOR'S NOTE
:
Is a pickleball paddle cover an essential accessory for pickleball players? Later in this article, we'll talk about how paddle covers aren't a necessity, but it really depends on what equipment you already have. Keep an eye out for that!
Pickleball Paddle Aftercare
Paddle covers, despite having lots of technical features, are really just covers for your paddle to keep it from getting scratched and potentially ruined by the rain or heat. That's it. 
It doesn't substitute proper aftercare, which, if you don't know, is wiping your paddle dry with a clean towel after each use. Removing dirt, sweat, or water build-up as much as you can before storing your paddle will go a long way towards lengthening the lifespan of your paddle.
The Best Pickleball Paddle Covers to Buy in 2023
For this list, I'll be listing down three paddle covers from well-known pickleball brands. Two of them are privately labeled products, which means I couldn't find any other paddle cover that looks identical to them. These covers are manufactured specifically for the brand.
I will also be including three other paddle covers that are best in design, and style, and as premium gifts. 
Let's start with the sporty ones.
Selkirk Premium Pickleball Paddle Cover—Best Total Protection
This Selkirk pickleball paddle cover is designed to fit any kind of Selkirk paddle, so if you're already in the ecosystem, then this one's for you. Their Amazon product page also says that you can get a free paddle cover with any purchase of the SLK Evo, Amped, or Vanguard "Factory Second" paddles. 
The cover itself is the best in class for total protection because the paddle cover fits the entire paddle from handle to edge. Unfortunately, Selkirk didn't provide a strap or any place to grip the paddle cover, so it's actually quite difficult to hold over long periods of time. That's one of the biggest complaints in over 450 reviews on Amazon.
Features of Selkirk Pickleball Paddle Cover:
Colors

: black & red combo

Size

: fits all Selkirk paddles, but the specific dimensions are 18 × 9.3 × 0.3 inches

Weight

: around 6 ounces

Material

: faux leather with terry fabric interior 
PROS 
CONS

The paddle cover protects everything from the handle to the edge of the paddle

Faux leather material is easier to maintain and requires less, or no, washing or laundry

Terry fabric interior to help keep the paddle dry

Hard to hold because you cannot hold it with the handle. It also doesn't come with a strap, which is another negative
Customer Reviews of the Selkirk Paddle Cover
The most common complaint in the reviews is the annoyance of finding it difficult to carry because it doesn't have a strap or a proper handle to hold onto. Some players also complain about the hanging loop at the top of the paddle cover, which they say is poorly sewn and came off within a couple of weeks.
Overall though, the Selkirk paddle cover is a 4.7 out of 5 on Amazon with over 450 global ratings as of writing. A lot of people are definitely happy with their purchase, and considering Selkirk is one of the best brands in pickleball right now, we're pretty happy with it too.
JOOLA Paddle Cover—Best Of All Generic Covers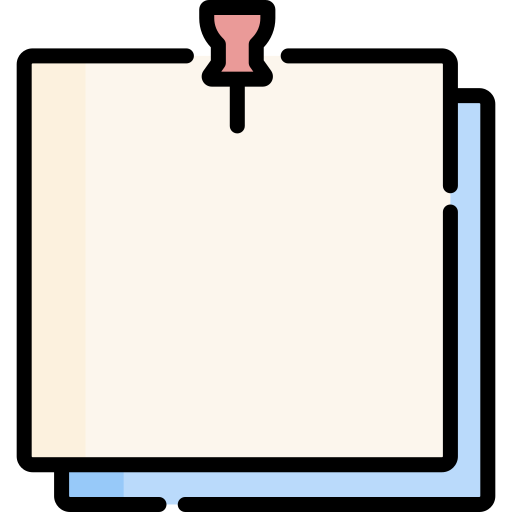 AUTHOR'S NOTE: I actually would not recommend JOOLA as a one-stop solution for buying a generic paddle cover. There are too many bad reviews of the cover being too small and tight. However, JOOLA is the best example out there when talking about generic, white-label covers. The features are basic and they have several options for the different kinds of paddle sizes.

So, I recommend that you use this as a guide or placeholder for how to shop for generic covers. Anyway, generic covers have the most diverse designs, so I definitely recommend shopping elsewhere for a design you prefer—granted they have similar features to this JOOLA cover.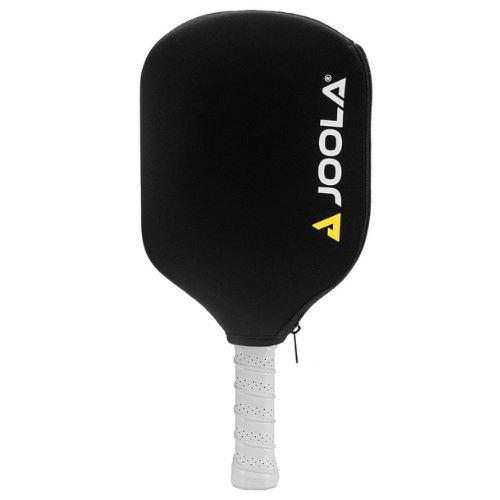 The JOOLA paddle cover belongs in the 99 percent of pickleball covers category that I mentioned before. They have the same features as basically every other paddle cover and look like they're just a generic product with a logo on it. These paddle covers only protect the paddle face. It works by inserting the paddle handle into the cover and then zipping your cover tightly.
So, why did I pick JOOLA over hundreds of other generic paddle covers?
JOOLA has four options you can choose from. Although they're all black, three of those choices are standard, elongated, and radius. They basically cater to all types of pickleball paddles. The other choice is just a printed signature and design for Ben Johns, the number one pickleball player in the world that they sponsor. 
Features of JOOLA Paddle Cover:
Colors

: black

Size

: has three options for standard, elongated, and radius pickleball paddles

Weight

: 3.5 ounces

Material

: Neoprene
PROS 
CONS

Lightweight and covers the paddle effectively

Comes in different sizes for elongated and radius paddles, besides just the standard

Ironically, the dimensions of the paddle cover don't leave a lot of allowances and could be either tight or too small for most paddles.
Customer Reviews of the JOOLA Paddle Cover
Unfortunately, the most common negative review for the JOOLA paddle cover is the size. It's too tight and small for around 15 percent of customers, according to Amazon reviews. While there were a lot of inconsistent and bad experiences, I still felt that JOOLA was the perfect product I could use to highlight the generic covers category.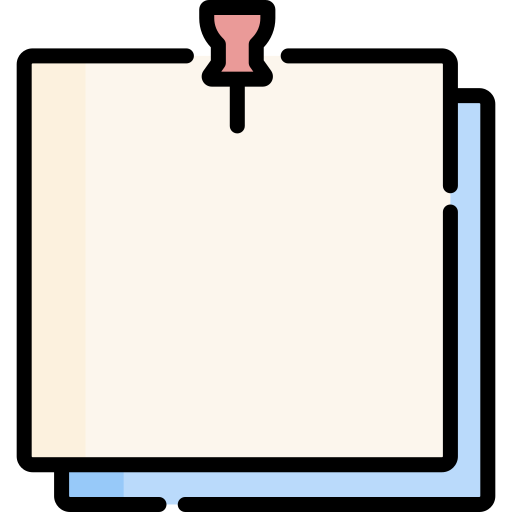 NOTE:
Other reputable pickleball brands like ONIX also sell paddle covers. But, I couldn't find ONIX paddle covers on Amazon, apart from those that come in a paddle bundle. On that note, if you want a cheaper option,
PickleballCentral also sells a Neoprene paddle
cover with similar features to the JOOLA cover. 

It's $2 cheaper (at the time of writing) and there are black, blue, gray, lime, and pink colors to choose from. However, the design looks cheap to me because the logo looks like a sticker. 
Franklin Sports Pickleball Paddle Cover—Best Functionality 
The Franklin Sports paddle cover is the best cover out there when it comes to functionality, for the sole fact that it has a built-in fence clip. This is a clip or hook at the top of the paddle cover that lets you hang or clip the cover to a fence, out of harm's way. This is also perfect for hanging your paddle from a hook when you arrive home. 
Outside of the special hook, it pretty much has the same features as any other neoprene paddle cover like the JOOLA mentioned above. And, all of that at a much lower price! This isn't our cheapest paddle cover here though, so keep an eye out for that below. 
Features of Franklin Sports Paddle Cover:
Colors

: black with green or pink zippers

Size

: "universal" size, so it fits most paddles. 13 × 9 × 0.625 inches. Slightly less wide than the Selkirk paddle cover

Weight

: 4.2 ounces

Material

: Neoprene
PROS 
CONS

Fence clip for attaching the paddle cover on fences or hooks

Lightweight and covers the paddle effectively

Comes in different color zippers

Most affordable paddle cover in the pickleball brand category

The paddle cover is actually quite big, so it won't be a snug fit for most paddles out there. 
Customer Reviews of the Franklin Sports Paddle Cover
Surprisingly, the most common negative review about the Franklin paddle cover is the size. Some customers find that the paddle cover is too big for the paddles. This doesn't mean that the paddle slips out of the cover though. It just means that the paddle has room to move around while it's inside the cover. 
On another note, the big size is also one of the features that a lot of customers love. And more people loved the size than hated it.
Customized Dog Pickleball Cover—Best Style
Of course, the best pickleball paddle covers you can buy are ones you design yourself!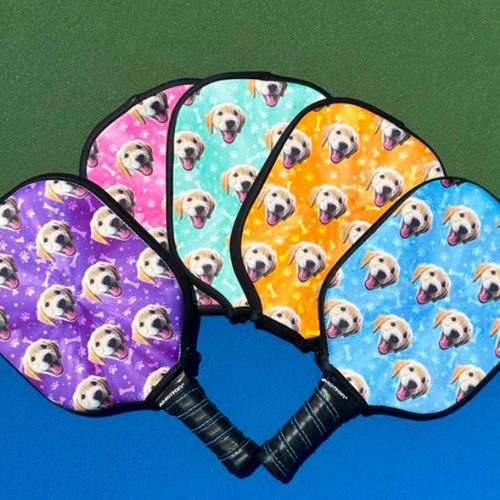 The Customized Dog Pickleball Paddle Cover is a great way to show your love for your furry friend while also protecting your pickleball paddle. This cover is made from durable neoprene just like every other generic paddle cover in the market. 
Despite what the product is called, the cover is actually fully customizable. You aren't limited to just dogs. You can have your cat, cow, and pretty much anyone with a face printed on the cover.
Features of Customized Dog Pickleball Paddle Cover:
Colors

: Over 25+ primary colors to choose from

Size

: 12 inches long × 10 inches wide. So they're quite big

Weight

: Not specified

Material

: Polyester and Nylon
PROS 
CONS

The unique design of your pet or person that you want to stick to your cover

Affordable and comes from a small, family shop

Handmade

Option for group discount pricing for orders with more than 25 paddle covers

Takes a couple of days to create the cover, so if you're in a rush and want same-day delivery, this isn't the one
Customer Reviews of the Customized Dog Pickleball Paddle Cover
Out of 87 total reviews as of writing, there's only a very small amount of negative reviews. In fact, there's only one that complained about the size being too small, which is strange because the dimensions are quite large and most reviews had no problem with the cover at all.
Graffiti Pickleball Paddle Cover—Best Budget 
Made from the standard neoprene but at the lowest price I could find, the graffiti pickleball paddle cover is the best budget option right now.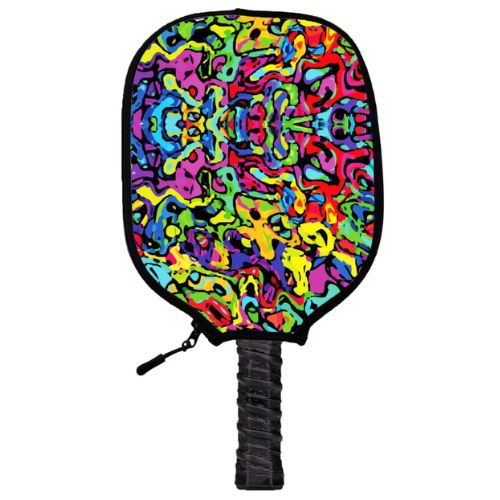 This is pretty much like the generic neoprene cover that I've been telling you about. The product itself has tons of reviews, and because of its affordability, it's actually the best-selling paddle cover on Etsy. The design is personally too loud for me, but considering how bright colors are popular on the court, this should blend in easily.
Northwind Personalized Canvas Pickleball Paddle Cover—Best Premium 
Handmade, leather, canvas. It's a premium pickleball paddle cover that really stands out from the sporty, glossy texture that comes from polyester and neoprene.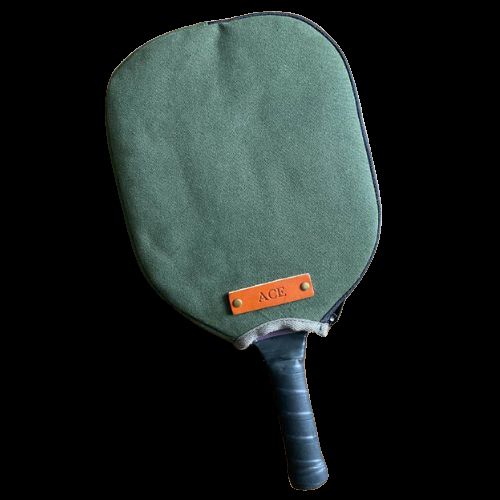 This pickleball cover is made from high-quality cotton canvas and has faux shearling lining. It also comes with a vegetable-tanned leather patch big enough for three initials. They are available in three canvas colors and four leather colors, so you can choose the perfect combination to match your paddle or your style.
The Northwind CANVAS Pickleball Paddle Covers are also fully customizable. You can choose up to three letters or numbers to be embossed on the leather patch. This makes them the perfect gift for pickleball players of all ages.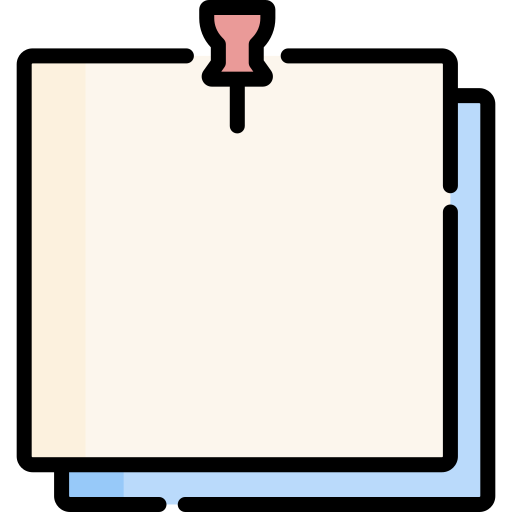 AUTHOR'S NOTE
: Remember what I said in the buyer's guide. Pickleball paddle covers aren't a "science". While a lot of cover products might be advertised with "
leading-edge technology
", the truth is that these covers aren't at all complicated. So, if you're in the market for a paddle cover, buy one for functionality, design, and convenience. 

"Features" and "technologies" in this product category are inflammatory hype that's also present in 99 percent of other paddle covers in the market.
Should You Even Buy a Pickleball Paddle Cover?
Paddle covers are great but they can be unnecessary. 
If you already have a pickleball bag, then you might not need a cover. Granted, this only applies to bags that have a special, separate compartment for the paddles. If your bag only has one zipper where everything is thrown, then your paddle is bound to get damaged and scratched when you toss it there with everything else.
Buying a couple of pickleball paddle covers is important for lengthening the lifespan of your paddle and keeping your gameplay crisp!