If you're looking for the best pickleball paddles for beginners, you're in the right place. In this buyer's guide, we share our top picks for the best beginner pickleball paddles and some things to remember when shopping for your first paddle.
When shopping for pickleball paddles for beginners, there are a few things to remember to find the perfect paddle for you.
First, choose a paddle that's comfortable to hold and easy to swing. Ensure the paddle is the right size for your height and arm length, offer a comfortable grip and pick a paddle with a forgiving sweet spot on the paddle face, so you can make solid contact with the ball even if you don't hit it perfectly. Also, make sure you've chosen a paddle that is within the rules of the game.
With those factors in mind, here are our top picks for the best pickleball paddles for beginners:
Selkirk Neo: The Selkirk Neo is among the best pickleball paddles for beginners. It's comfortable to hold, easy to swing, and has a forgiving sweet spot. It's a lightweight paddle that won't wear you out as you play.
Paddletek Mirage: The Paddletek Mirage pickleball paddle is another excellent option for pickleball beginners. It's comfortable to hold and swing, and the large sweet spot makes it very forgiving. This extremely lightweight paddle won't be too tiring to use.
Onix Z5: The Onix Z5 is comfortable with a large sweet spot but a bit heavier than some of the other paddles on this list, which can help you generate more power behind your shots.
Gamma Supreme: The Gamma Supreme is a great paddle for beginners. It's comfortable with a large sweet spot. It's also one of the heavier paddles on this list, and although it's still easy to swing, it generates a lot of power behind your shots.
Selkirk AMPED: The Selkirk AMPED is another good beginner racquet. This one is easy to swing with a large sweet spot, but it is one of the heavier pickleball paddles on our list and will help generate power behind your shots.
There are many factors to consider when choosing a pickleball paddle, and the type of pickleball player you are will dictate which factors are most important to you. Here are some things to keep in mind when making your decision on buying quality paddle:
Weight and Size
The pickleball paddle weight and size matter when choosing a pickleball paddle. A heavier paddle gives you more power, while a lightweight pickleball paddle or lighter paddles has more ball control. A larger paddle will give you a bigger sweet spot, while a smaller paddle will be more maneuverable. Further, lightweight paddles are ideal for novices and people with wrist or arm-related medical conditions. It offers more precision and is simple to handle.
Midweight paddles provide the greatest of both worlds, therefore if you are uncertain as a beginner pickleball player, you may want to choose a midweight paddle.
So, what should be the ideal beginner paddle? A beginner should pick a paddle that is simple to swing and comfy to hold. In general, we recommend avoiding heavy paddles. Choose a lighter paddle or midweight paddle instead.
Grip Size
When choosing a beginner pickleball paddle, consider the grip size. Pickleball paddle grip sizes also vary. A larger grip size gives more control; a smaller grip is easier to control. Standard grip size is 4.5 inches in length and the grip circumference is 4.25 inches.
When choosing the best pickleball paddles for beginners, it is crucial to choose a pickleball paddle with a grip circumference corresponding to your hand's size. Choosing the proper grip is like selecting the proper shoe size. If you choose a shoe that is too loose or tight, the consequence will not be satisfying. The same holds for pickleball paddle grip. If you cannot decide between two sizes, select the smaller one since you may add overgrip to expand the size, however you cannot do so with the larger one.
Do not use a paddle with a much smaller grip since it requires you to grasp the handle with better power. This may impact the hand, forearm, and elbow, leading to fatigue and tendonitis. Additionally, do not use a paddle with a much bigger grip since it inhibits wrist movement, makes changing grips more difficult, and requires more strength.
The optimal grip size is large enough to play properly and provide a complete range of motion.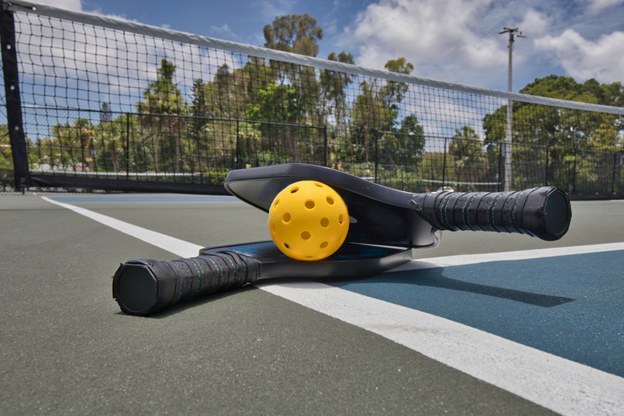 Material
Different pickleball paddle materials offer different levels of power, control, and durability.
A few different materials are used to make paddles, but the most common is wood. Wooden paddles are durable, providing significant ball control for the player. Yet, the ball is tough to control while using wooden paddles. Other materials sometimes used to make pickleball paddles include aluminum, composite, and graphite. Each of these materials has its own benefits and drawbacks, so choosing the suitable material for your needs is essential.
Aluminum pickleball paddles are a good choice for players who want a lightweight and durable paddle. They are also often less expensive than other types of paddles. However, aluminum paddles can be less comfortable to hold and may not provide as much control as paddles made from other materials.
Composite pickleball paddle combine different materials, such as carbon fiber and Kevlar. Composite paddles are very strong and lightweight, which makes them a good choice for players who want a paddle that is easy to maneuver. However, composite paddles can be more expensive than other types of paddles.
Graphite paddles use lightweight material that is similar to carbon fiber. Graphite paddles provide excellent control, and they are very durable. Also, a graphite pickleball paddle's surface is superior if you want a fast response to the pickleball. However, they may not be as comfortable to hold as other types of paddles.
When choosing among the best pickleball paddle, you must consider your playing style and needs. If you are looking for a paddle that is lightweight and easy to maneuver, then aluminum or composite paddles may be a good choice. A graphite paddle may be the best option if you need a paddle that provides excellent control. Ultimately, the best pickleball paddles are the one that works best for you.
Edge Guard
Edge guard is optional, thus it relies on your own choice. It safeguards your paddle should you drop it while playing a game. The primary disadvantage is that it covers the surface area that contacts the ball. The protective tape on edgeless paddles is less useful than the edge guard.
Paddle Core
The thickness of a paddle's core has a significant impact on its performance.
Typically, a thicker core paddle is about 16 millimeters thick. Paddles with a thicker core are renowned for softening the feel and enhancing control. They also aid in steadying the paddle, reducing wobbling caused by off-center shots. The most prevalent and player-friendly core size is 16 millimeters. Thinner core paddles vary in thickness from 10 to 14 millimeters and are renowned for their increased power and pop at the price of feel and control. They are less stable than a bigger core and provide more input when off-center shots are made.
In general, as the thickness of the core rises, so do its softness and control. In contrast, as the core becomes smaller, the paddle feels firmer off the face and its power increases. If you choose control over strength, thicker 16mm polymer core paddles will appeal to you. In paddles, polymer core is a tough and flexible plastic material.
Playing Style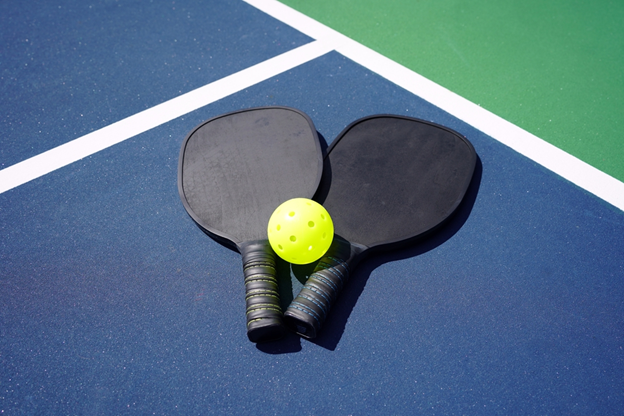 Different pickleball players have different playing styles, which can affect the type of pickleball paddle they use. Some players prefer to play aggressively, using a paddle that provides better power and spin. Others may want a paddle that is more versatile and provides better control.
Also, ask yourself:
Do you want a paddle that excels in power or control?
Do you need a durable paddle that can withstand hard hits?
Do you need a paddle that will last a long time?
Do you prefer to have more than one paddle available, and how much can you afford to spend on each?
Budget
Pickleball paddles range in price from around $30 to $200. Hence, if you are looking for a pickleball paddle for beginners, it's essential to find a paddle that fits your needs and budget. We recommend having a budget for $30-$60 for a great starter paddle. If you intend to buy more than one paddle, doing so could affect how much you can afford to spend on each. If you can find an offer for two paddles, then you can consider investing in it. An advanced player may have practice and tournament paddles, while others prefer to practise with the same type of paddle they'll use in serious games.
As you can see, pickleball paddles vary. Hence, once you've considered all these factors, you can narrow your options and choose the perfect beginner and affordable paddle for your game. You may try a number of pickleball paddles prior to making a purchase. Also, compare all the paddle features and then you can determine the best paddle based on optimal weight, grip size, and style.